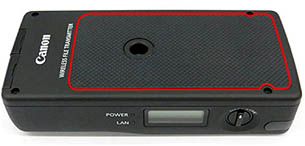 Update: The advisory showed up on Canon USA's site too. I changed the machine translated text,
Canon Product Advisory: WFT-E7B Wireless File Transmitter rubber part is discolouring. The product advisory come from Canon Japan (translated). The rubber top of the Canon WFT-E7B Wireless Transmitter is loosing colour. This is not the first time Canon has problems with rubber parts. The machine translated advisory:
Phenomenon

The exterior rubber part on some Wireless File Transmitter WFT-E7A units may change color (turn white) after a short period of time. Canon USA will replace those rubber parts at no charge to the customer.

Affected Product
The rubber on the top surface of some WFT-E7A units produced in certain lots from April 9 through July 13 may turn white after a short period of time. We have determined after inquiry with the rubber manufacturer and analysis, that the white substance is zinc bis (N,N'-dimethyldithiocarbamate).

Zinc bis is not used in the production of this product. However, the quantity of rubber accelerator used in the affected production lots was slightly higher than usual. As a result the rubber surface may turn white due to a chemical reaction with the rubber accelerator and other substances. High temperature and high humidity may contribute to this condition. Zinc bis (N,N'-dimethyldithiocarbamate), which becomes deposited on the rubber surface, is created as a result of this chemical reaction.
Only certain batches are affected. You can easily check if yours is also affected by checking the serial number: Affected product items have a digit of "1" at the fifth position from the left and the first two left-most digits in the 03-06 range.
Only certain WFT-E7A wireless file transmitter units
produced between April 9 and July 13, 2012 are affected.
If the first two digits of the serial number are "03" through "06" and the fifth digit is "1", the unit is affected.
03xx1xxxxx, 04xx1xxxxx, 05xx1xxxxx, 06xx1xxxxx  ([x] represents any optional number. )
If you have one of these transmitters Canon will repair it for free:
Free Repair
Canon USA will replace the rubber part of the affected wireless file transmitters free of charge at our service centers.

We anticipate that our free repair service will start in late October or early November.

Caution on Use
The amount of zinc bis detected during our testing was minimal. Although Canon has not received any reports of injury or allergic reactions regarding this product, it is possible for zinc bis, in the small amount found in the rubber surface of affected units, to cause allergic reactions, such as a rash, when it comes in contact with skin of sensitive persons. In addition, if eyes are rubbed after contact with the substance, symptoms such as red eyes may develop.

As a precautionary measure, thoroughly wash your hands with water if they have come in contact with the rubber surface that has turned white. If any medical symptoms develop, please consult your physician immediately.

Contact Information For Inquiries
This information is for residents of the United States and Puerto Rico only. If you do not reside in the USA or Puerto Rico, please contact the Canon Customer Support Center in your region.

Thank you,
Customer Support Operations
Canon U.S.A., Inc
Contact Information for Inquiries

Canon Customer Support Center

Phone:

1-855-214-3277

1-800-652-2666

TDD:

1-866-251-3752

Email:

For additional support options: www.usa.canon.com/support
[via DCWatch]