Metabones® announced a new Canon EF to MFT Speed Booster adapter with the following features:
Increase maximum aperture by 1 stop.
Increase MTF.
Makes lens 0.71x wider.
Build-in electronics to control lens aperture.
The lens aperture is set by the controls on the camera body.
Powered by camera body. no external power source required. (also accept 3rd party external power supply via MicroUSB socket)
High performance 32-bit processor and efficient switched-mode power supply.
The tripod foot is detachable and compatible with Arca Swiss, Markins and Photo Clam ball heads.
Optics designed by Caldwell Photographic in the USA (patent pending)
A first hands-on review can be seen at EosHD. More details on Metabones' site.
Supported
Not supported 
EF lensesImage stabilization (IS) lensesElectronic manual focusing (e.g. EF 85/1.2L II and discontinued EF 50/1.0L)EXIF (focal length, aperture, zoom range)Distance and zoom display on camcorders (see note 1)Contax N mount lenses modified to Canon EF by Conurus (see note 2)Contax 645 NAM-1 adapter modified to Canon EF by Conurus (see note 2)

Sigma, Tamron and Tokina lenses in Canon EF mount (see note 2)

External 5 Volt power supply (see note 6)

Autofocus EF-S lenses (some EF-S lenses may need modification)Lens correction such as peripheral shading, CA and distortionFocus confirmation "chip" (e.g. Dandelion)M42 screw mount adapters (see note 4)Stacking non-Metabones/non-Conurus mount adapters on top (see note 5 and list of lenses which require modification below.)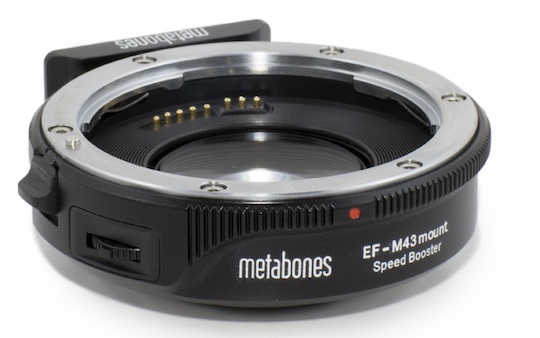 [via 43rumors]