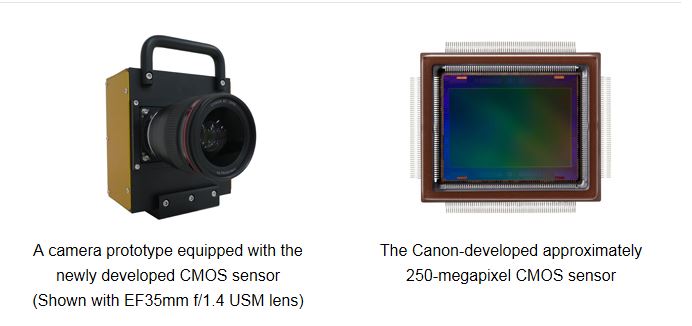 Do you remember the 250MP sensor Canon showed off last year? I am pretty sure the sensor is based on column parallel ADC technology.
There is an interesting paper presented at ISSCC 2016 (2016 IEEE international Solid-State Circuits Conference) by a team of Canon researchers, with title (thanks Richard)
"An APS-H-Size 250Mpixel CMOS Image Sensor Using Column Single-Slope ADCs with Dual-Gain Amplifiers" (H. Totsuka, T. Tsuboi, T. Muto, D. Yoshida, Y. Matsuno, M. Ohmura, H. Takahashi, K. Sakurai, T. Ichikawa, H. Yuzurihara, S. Inoue -Canon, Kawasaki, Japan)
Unfortunately the paper will be presented in January, when the conference takes place, and is not yet available to the public.
I posted a few days ago that Canon filed a slew of patents regarding column parallel ADC technology, and that I got a hint this technology may be implemented in future Canon pro bodies (which in the meantime has been reposted by some sites). I am currently studying more Canon patents that all refer to column parallel ADC technology. Given the sheer amount of such patent, I think it is safe to assume that Canon has some plans with this technology.
2016 will be an exciting year for Canon, with new pro bodies coming (EOS 5D Mark IV and EOS-1D X Mark II) along with the EOS 6D Mark II and possibly a full-frame mirrorless camera. It's too early to speculate on which cameras Canon will feature a sensor with column parallel ADC technology, but they will. I believe we may see this technology first on the EOS 5D Mark IV and EOS-1D X Mark II.
The video below (by Fotografiapuntoit) gives an overview on Canon's 250MP sensor. Stay tuned for more…
[via
Image Sensors World
]