DxOMark reviewed the Zeiss Apo Sonnar T* 2/135 ZE lens, a luxury, manual focus lens that sells for over $2000.
The lens was tested on a Canon EOS 5D Mark III. This is a "ultra-high performer", the Zeiss Apo Sonnar T* 2/135
[…] achieves an excellent DxOMark score of 38 points putting in first place in our rankings of fixed focal length telephoto lenses on the Canon EOS 5D Mk III in our database.
DxOMark's conclusion:
The Zeiss Sonnar T* 2/135 is the best corrected and sharpest lens of its type in this focal length, and it's also one of the best performing model we've seen so far on the Canon EOS 5D Mk III.

But, it's up against tough competition from the Canon EF 135mm f2L USM. Not only is that lens close in optical performance it's lighter, smaller and has the additional flexibility of auto-focus. It's also more accessible in terms of pricing.

Be that as it may, the Zeiss is a superb performer optically and appears good value when compared to other models from the company.
Indeed, the Zeiss score better than equivalent or similar Canon lenses.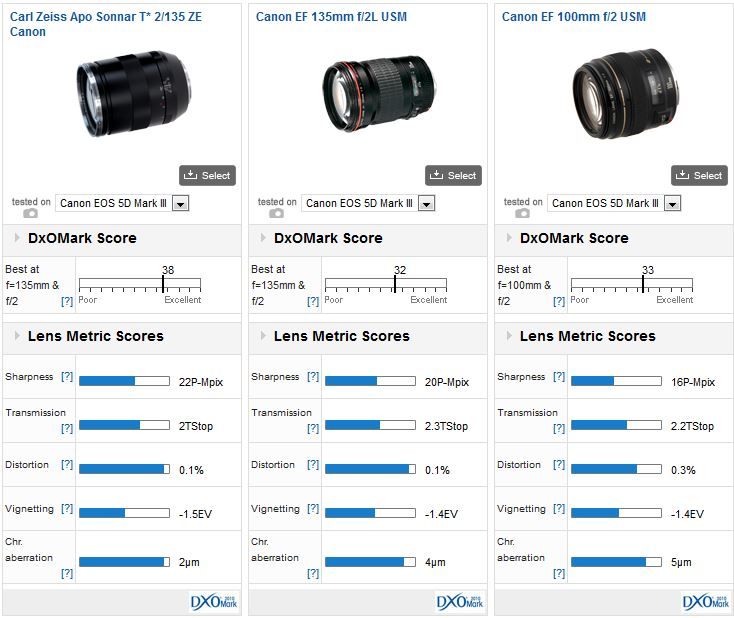 Zeiss Apo Sonnar T* 2/135 ZE: Amazon, B&H, Adorama, Canon USA, Digitalrev, eBay
[via DxOMark]