Canon EF-S 10-18mm f/4.5-5.6 IS STM DxOMarked (and it looks really good!)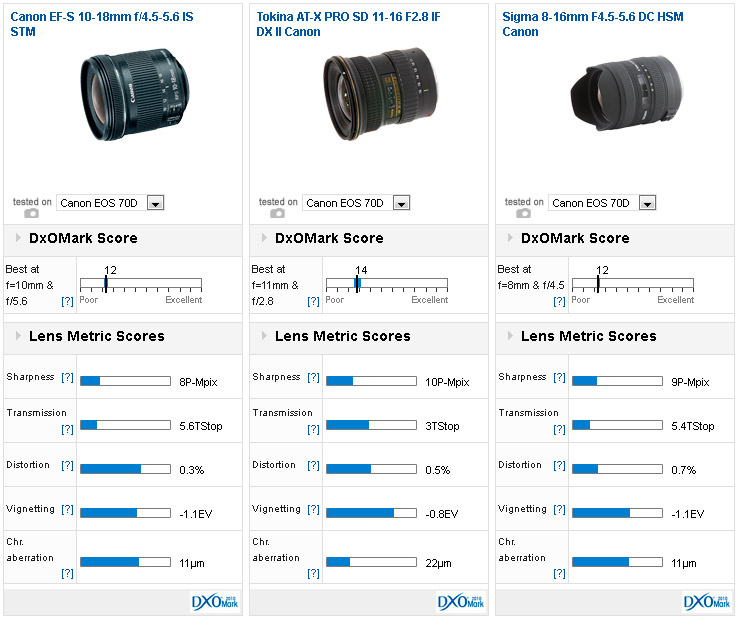 DxOMark felt the pulse of Canon's new and affordable EF-S 10-18mm f/4.5-5.6 IS STM, a lens that already got plenty of good reviews (also because of the price tag, less than $300). The EF-S 10-18mm f/4.5-5.6 IS STM is made for APS-C DSLRs (and was tested on an EOS 70D).
Regarding its position against the competition, DxOMark writes:
Against well-established and highly regarded rival models, such as the pro-level constant-aperture $659 Tokina 11-16mm f2.8 IF DX II and the extreme Sigma 8-16mm f4.5-5.6 DC HSM the new Canon doesn't look too bad. Peak resolution is just behind both and it has low levels of distortion and vignetting. The wider Sigma has similar levels of chromatic aberration as the Canon, which in turn are both better controlled than the Tokina though that's perhaps not surprising given the differences in their respective maximum aperture and focal length.
There is more in DxOMark's analysis, be sure to head over to the review.
Canon EF-S 10-18mm f/4.5-5.6 IS STM
B&H Photo, Adorama, Amazon USA, Amazon Canada, Canon Canada, Canon USA