Canon EOS 5D 10 Years Anniversary Open House in San Francisco (August 22)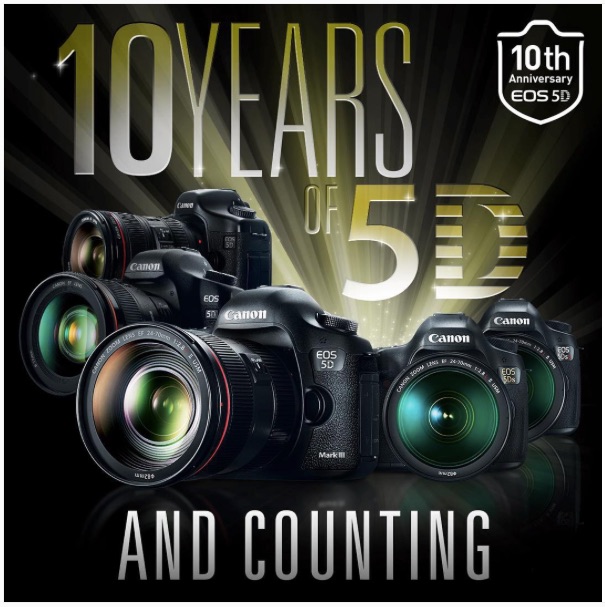 Canon Digital Learning Center will held an Open House day to celebrate the 10 years anniversary of the EOS 5D line. You have to register for the event (click here). All information about the event are summed up on this page.
Program: Canon Live Learning San Francisco
Date: August 22, 2015
Time: 1:00 pm – 4:00 pm
Fee: Free
Location: Canon Live Learning San Francisco, 201 California St., San Francisco, California 94111
Questions: 

[email protected]
Press release:
Celebrate 10 years of Canon EOS 5D Cameras. 
September 2015 will be the 10th anniversary of the launch of the original EOS 5D. The EOS 5D series cameras have been landmarks in DSLR photography.
The original EOS 5D brought full frame DSLR photography to the consumer and advanced amateur market.
The EOS 5D Mark II raised the bar to 21.1 MP resolution while being the first DSLR to capture 1080P HD video. Hollywood has never been the same with TV shows and major motion pictures shot using the EOS 5D Mark II.
The EOS 5D Mark III again pushed the limits with a combination of high resolution, amazing high ISO performance and six frames per second. The EOS 5D Mark III also brought the EOS 5D series to new levels with 61 AF points (similar to the EOS-1DX).
Now we add the EOS 5DS and EOS 5DS R that push the envelope to 50.6 MP resolution. Join us at Canon Live Learning San Francisco to celebrate the anniversary of this amazing line of EOS cameras.
EOS Camera and Lenses Display and Hands-On Demonstrations
See the latest Canon EOS cameras and lenses including all of the current and past EOS 5D cameras. Canon Live Learning Instructors will be on hand to answer your questions on equipment choices or photographic techniques.
EOS 5D History Presentation (1:30 pm)
A short history of the EOS 5D line of cameras, followed by the cutting of the cake.
Anniversary Celebration (1:45 pm)
Help us cut the anniversary cake and celebrate the 10 years of the EOS 5D camera line. Door Prize drawing follows.
"Bending the Light" (3:00 pm – 4:00 pm)
We will be showing the documentary "Bending the Light," a Michael Apted documentary that honors the artisans and craft of still and motion photography and, in particular, the glass that captures it all.
EOS 5DS and EOS 5DS R Images
Talk with Canon Live Learning instructor, Dave Henry, about his experiences with the EOS 5DS and EOS 5DS R. Dave has shot over 22,000 images with these cameras. You will also be able to examine his 35 – 24'' X 36" gallery prints, complete with descriptive metadata.
What is provided:
Free Canon lens cloth to all attendees
Free prints from Canon PIXMA printers (as time allows, bring your image on a flash drive)
Free Anniversary Cake
Door Prizes