Canon Patent for 20-100mm and 30-135mm Cine Lenses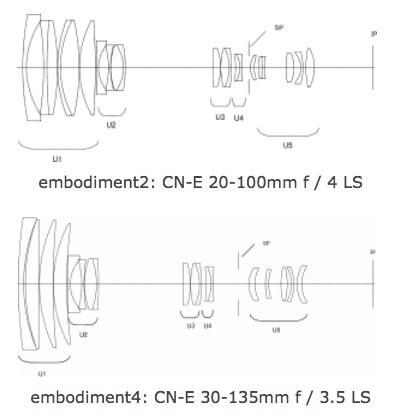 Canon committed to more Cine lenses. Egami (translated) spotted a patent for a CN-E 20-100mm f/4 and a CN-E 30-135mm f/3.5 lens.
Machine translated patent description:
Canon patent
Positive and negative positive and negative positive 5-group zoom

Inner zoom

Inner Focus (fourth group)

According to the invention, it is possible to appropriately define the refractive power arrangement and the lateral magnification of the zoom sharing ratio and the lens groups of zooming group, while reducing the size and weight and a high zoom ratio , it is possible to decrease the magnification ratio of a short-distance shooting is to achieve the image pickup apparatus having a zoom lens and it is suppressed.