Canon patent for 30mm F2.8 DO lens for full-frame mirrorless cameras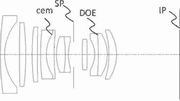 Another Canon patent for an optical formula that appears to point to a full-frame mirrorless camera, a 30mm F2.8 DO lens. "DO" stays for diffractive optics. I tell you folks, Canon's full-frame mirrorless camera is coming!
Patent Publication No. 2016-102851

Published 2016.6.2

Filing date 2014.11.27

Example

Zoom ratio 1.00

Focal length 31.35

F-number 2.86

Angle of view 34.61

Image height 21.64

Overall length of the lens 85.29

BF 29.99

Canon patent

Positive ShiboTadashi

Diffractive optical element (the second group of aperture stop image side)

Correct axial chromatic aberration and lateral chromatic aberration of the near-infrared light

[0001] 

The present invention relates to a magnification chromatic aberration correction of the imaging optical system used in a near infrared region from the visible region is suitable especially monitoring optical system.
[via
Egami
]