Canon patent for EF-M 55mm f/3.5 macro lens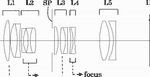 A Canon patent for an EF-M 55mm f/3.5 macro lens for the EOS M system.
Canon is working on the future of the EOS M system, and there is a lot to come in 2016. This patent is just a hint about Canon's mirrorless plans. This is a patent for an APS-C sensor, so the rumored Canon full-frame mirrorless camera is not involved here. However, we spotted a Canon patent for a similar optical formula some time ago (50mm f/3.5 IS). According to my sources, Canon's full-frame mirrorless camera has been delayed because of mount-related issues. Another rumor we got, states that early prototypes of such a camera are already undergoing lab tests. Hard to say when we really can expect this camera, but I am sure it is coming.
Canon is now taking their EOS M system seriously. The EOS M3 was the right step in the right direction, and is a great camera. Some clickbait sites are saying that the EOS M3 is one of Canon's worse releases of 2015. That's utterly dumb and likely the oddest statement about Canon in 2015, and has the sole purpose to get traffic by smashing Canon. I have to say that I am surprised to see how many people feels the urge to smash the Canon EOS M3, as they did before with the EOS M. Guess this is just childish, and profitable. I own both cameras, along  with APS-C and FF bodies. Well, I am now on travel for the next 2 months and guess what camera I have with me? Right, the EOS M3. A great mirrorless camera with an image quality that outperforms most of the competitors.
Patent Publication No. 2015-215391

Published 2015.12.3

Filing date 2014.5.8

Example 1

Focal length 53.73

F-number 3.50

Half angle (in degrees) 14.26

Image height 13.66

Overall length of the lens 76.39

BF 17.69
[via
Egami
]