Play Around With A Canon C500 Without Owning It (C500 Menu Simulator)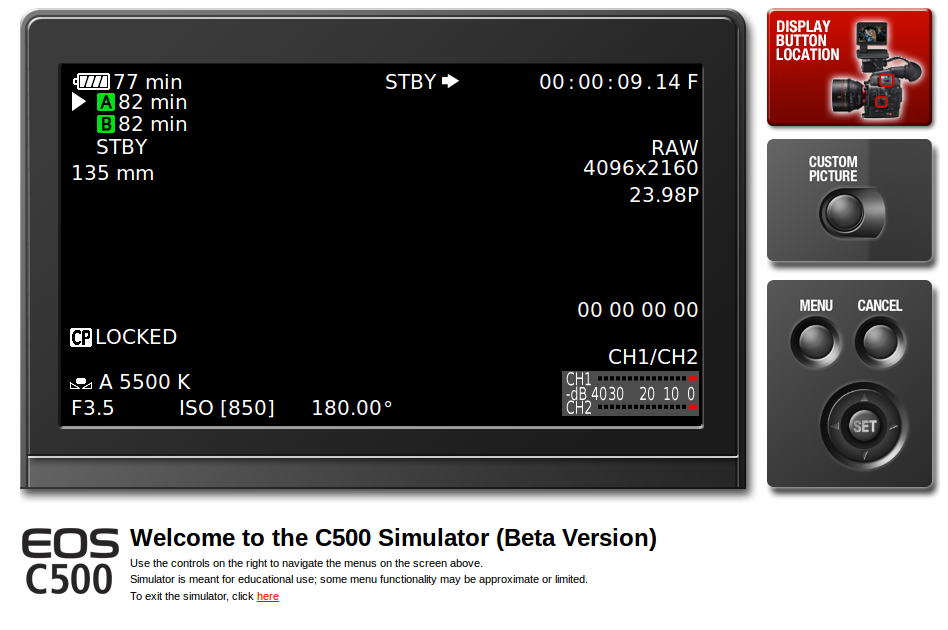 After the Canon C300 menu simulator, the Canon Digital Learning Center put a Canon C500 menu simulator online.
The Canon C500 has a price tag of $25,999 and can be purchased at the following shops: Canon C500 at B&H and Adorama. To much money? You can always rent the Canon C500 at Borrow Lenses.
Canon press release:
Canon U.S.A. has launched the Cinema EOS C500 4K Digital Cinema Camera Menu Simulator. Developed by the Canon Digital Learning Center (CDLC), the EOS C500 Menu Simulator is a fully interactive platform that allows users to familiarize themselves with the camera's Main Menu and Custom Picture Menu.

With this innovative training tool, prospective users of the EOS C500 can navigate the simulated menu system with a mouse, keyboard arrow keys or their fingers (when using a touch screen device). Ideal for cinematographers, camera operators, camera assistants, producers, and directors, the Menu Simulator provides a platform to research camera behavior and features.

For added convenience, the EOS C500 Menu Simulator has been optimized for use on personal computers and tablet devices so it can be used at home, on set, or on-the-go.

To access this simulator feature please visit: www.learn.usa.canon.com/resources/articles/Simulators/c500.shtml
[via TDP]