Skylum releases Aurora HDR 2018 (ver. 1.2.0)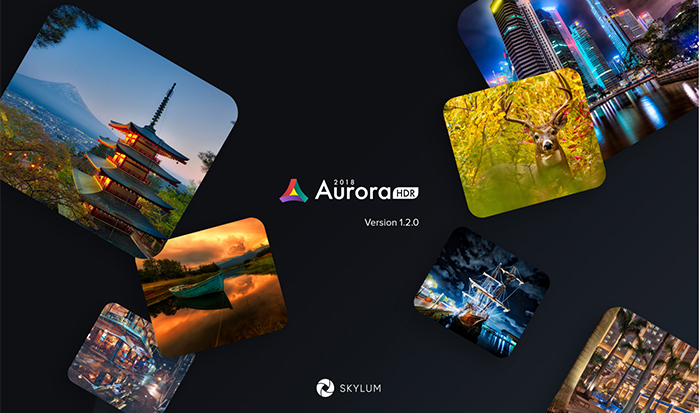 Skylum Software released the free Aurora HDR 2018 version 1.2.0 update. Among the many new features, this version focuses on a faster and more efficient workflow. See all new features  and addition below.
A collection of bonuses will also be included with every purchase (worth $128, see at bottom of post). Aurora HDR 2018 now supports the Loupedeck editing console.
This is new in Skylum Aurora HDR 2018 version 1.2.0:
Speed boost for editing and adjusting. We've dramatically increased performance across all areas of Aurora HDR 2018 1.2.0 on Windows and Mac.

Fast single-file opening. With an improved image processing engine, Aurora HDR is now much faster when opening single files.

Loupedeck integration (for Mac&Windows). Now, users can quickly process photos in Aurora HDR using physical dials, knobs, and keys.

Batch processing (for Windows). Aurora HDR 2018 1.2.0 will allow Windows users to edit a large number of photos simultaneously.

Better memory management. Aurora HDR 2018 1.2.0 is also optimized to make better use of memory, with more intelligent memory management and improved stability.

Windows version catches up to Mac version. Windows users will receive a flip/rotate tool, bringing Aurora HDR for Windows more in line with its macOS counterpart.

Aurora HDR now supports more cameras than before. The full list across both Windows and MacOS includes: Canon EOS 3000D / Rebel T100 / 4000D, FujiFilm X-H1, FujiFilm X-A20, FujiFilm X-A5, FujiFilm X-E3, Olympus E-PL9, Panasonic DC-GF10 / Panasonic DC-GF90, Panasonic DC-GX9 / DC-GX7MK3, Panasonic DC-TZ200 / DC-ZS200 / DC-TZ202 / DC-TZ220 / DC-ZS220 / DC-TX2, PhaseOne IQ3 100MP Trichromatic, Sony A7 III.
More after the break…
Here's a full list of the new features and improvements:
MAC:
Performance boost when editing and opening single files

Faster export

Loupedeck integration

Better brackets sorting during Batch processing

Better memory management

Plugin stability improved

New camera support

Better export performance

Fixed brush drawing

Improved opening of .DNG image
WINDOWS:
Performance boost when editing and adjusting

Faster export

Better stability and memory management

Batch processing added

Added layers menu and layer options menu

Ability to rename layers

UX improvements

Quick loading of single RAW files

Hover on blends

Added white balance color picker

Localisation fixes

Changed order of preset categories

UI fixes and improvements

Added histogram to tone curve filter

Improved stability of Dodge & Burn filter

Added context menu in the filters menu

New camera support

Better Windows document support

Added flip/rotate

Exif saving to document fixed

Loupedeck integration

Improved opening of .DNG image
---
OFFER AVAILABILITY: June 20–July 4
Bonuses included in the offer ($148 value):
119 Dramatic & Romantic Sky overlays ($29 value) – The ultimate collection of 119 dramatic high-res sky overlays to turn photos with boring skies into eye-catching works of art.

Complete HDR Tutorial by Trey Ratcliff ($99 value) – This entirely new HDR tutorial is perfect for beginners to mega-advanced professionals who want to see all of the latest post-processing techniques. Lisa and Trey discuss their artistic inspirations and challenges, how they compose a shot, their camera settings, and much more. You're then transported back to Trey's studio where he slowly takes you step-by-step through his latest techniques.

Deep Dive into Aurora HDR 2018 video by Trey Ratcliff ($20 value) – Trey Ratcliff, the most famous HDR photographer, shares his editing process in the new Aurora HDR 2018.