DxO has released the brand new Nik Collection 3. Enter our giveaway and win a free license, or you buy it right away with a special discount.
Now, you definitely want this legendary photo editing software, and we might help you get it. First, enter the giveaway below for a chance to win a full license for Nik Collection 3 (the more you interact, the more chances to win you have). Second, if you're in a hurry or haven't been lucky with the giveaway, you can buy Nik Collection 3 at the special launch price of $99 instead of regular $149 (exp. 6/30). A 30 days trail version is also available.
Here are some videos explaining what this amazing software can do.
DxO press release:
Nik Collection 3 By DxO: A faster and more creative user experience in Adobe Photoshop and Lightroom Classic
DxO, one of the most innovative companies in the photography and image-editing industry, has announced the immediate release of the Nik Collection 3 by DxO, a major upgrade to the famous plugin suite for Adobe Photoshop, Lightroom Classic, and DxO PhotoLab. The Nik Collection 3 By DxO has become even more powerful and versatile with each new version. It features a newly designed Nik Selective Tool, the suite's plugin launcher for Adobe Photoshop, and new quick edit tools. Nik Collection 3 By DxO also offers a new non-destructive workflow, a unique feature that is perfect for Adobe Lightroom Classic users, as well as an eighth geometric correction plugin, Perspective Efex. Finally, the Message Center lets Nik Collection users stay informed about new upcoming features and access new online resources.
Quickly unlock your creativity in Adobe Photoshop with the Nik Selective Tool
The Nik Selective Tool is a dedicated palette that gives users direct access to the suite's various plugins from Adobe Photoshop. The new Nik Selective Tool has been completely redesigned. This latest version revolutionizes how Nik Collection By DxO is used by simplifying the suite and providing faster access to each editing feature. The new version of the Nik Selective Tool features a new design that makes it easier to identify each plugin and clearly display your favorite presets. To optimize the workspace in Adobe Photoshop, the palette can be automatically collapsed with one click. The tool is also fully compatible with HiDPI screens and can be used in dual monitor mode for an even more productive experience.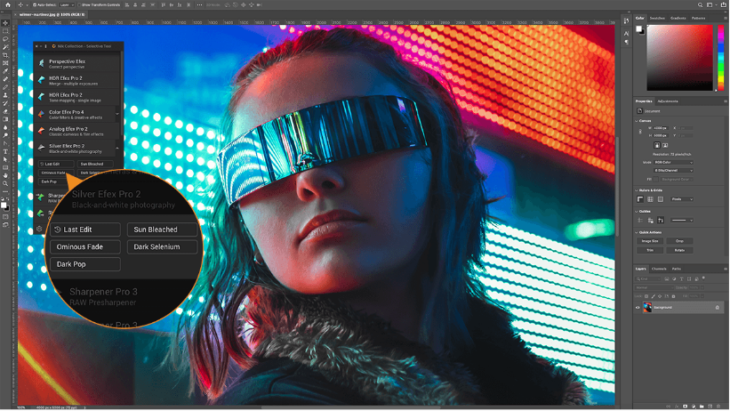 At the same time, the Nik Selective Tool has been expanded to include lightning-fast retouching options. Its new "Last Edit" feature recreates the last preset applied in a single click so users can quickly edit their images in the plugins of their choice. This feature is especially useful for editing batches of images or when users want to create a preset after editing a photo. Its brand-new "Quick Edit" option even lets users edit their images by applying the last action used without having to launch the plugin interface—all in a single click. Lastly, Silver Efex Pro and HDR Efex Pro now offer direct access to favorite presets, in addition to Color Efex Pro.
"The new Nik Selective Tool is a great way to make my post-processing workflow even more effective," says Soli Kanani, professional photographer and DxO ambassador. "Just like a real-life assistant, it's by my side around the clock, which lets me quickly open all the plugins I need at every step in the editing process, all without losing sight of what I'm doing."