Sony announced two new APS-C mirrorless cameras, the Sony Alpha 6100 and Sony Alpha 6600, along with new lenses (16-55mm f/2.8 and 70-350mm).
Preorders are available at B&H Photo and Adorama.
Press release:
Sony today announced two new additions to its α™(Alpha™) APS-C series of mirrorless cameras with the launch of the Alpha 6600 (model ILCE-6600) and Alpha 6100 (model ILCE-6100). These new additions to the range integrate Sony's advanced technologies into compact and lightweight bodies including leading-edge autofocus performance, superb image quality and the very latest video technologies. The new Alpha 6600 has been designedtoaddress the needs of the most demanding photographers and videographers with its versatility making it suitable for multiple types of shooting scenarios and users. The Alpha 6100 is targeted at users who are looking to make the step-up to shooting with interchangeable lens cameras and wish to shoot high-quality photos and videos in a variety of different situations.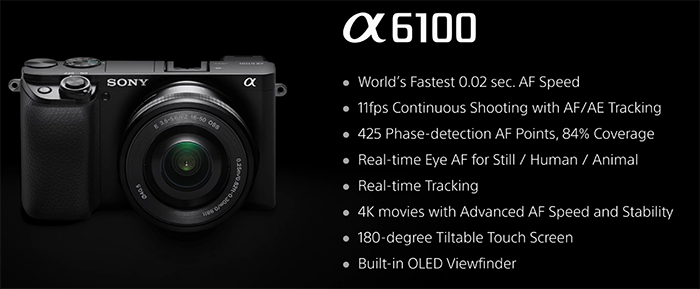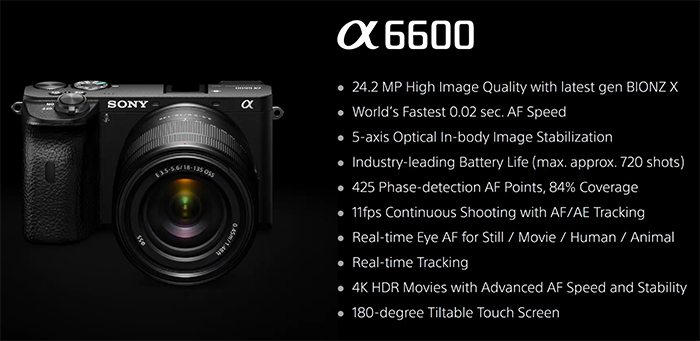 The Sony APS-C range has been further strengthened by the launch of two new lenses, the E 16-55mm F2.8 G standard zoom lens and the E 70-350mm F4.5-6.3 G OSS super-telephoto zoom lens. With this announcement, Sony's versatile E-mount system now features a total of 54 lenses.
"Our 'One Mount' strategy to continually expand the E-mount system, cameras and lenses with complete inter-compatibility between full-frame and APS-C, means that we want to offer the widest range of exciting products that customers can select from when choosing the right tool for their needs," said Yann Salmon Legagneur, Director of Product Marketing, Digital Imaging, Sony Europe. "The APS-C market is extremely important to Sony and the Alpha 6600 and Alpha 6100 are both cameras that pack-in the very latest technology breakthroughs and whether you shoot stills, video or a combination of the two, we are confident that users will be very happy with the results."