You are browsing the archive for November 2012 - CanonWatch.
And here it is! In Stock and shipping at BHphoto right now (Click here).
The video above shows sample footage shot with a pre-production Canon EOS 6D by BBC freelance cameraman Johnnie Behiri. For the video above Behiri used the following lenses: Samyang 35mm, a Canon EF 70-200 f/4L, and a Tokina 11-16mm.
Behiri found the high ISO very clean and usable, but found moire to be too strong and the image to soft.
Behiri says that although the camera records very clean high-ISO footage (1250 is "very much usable"), the camera has a number of weaknesses as well, which include severe moire, a soft image, no headphone socket, and a lack of clean HDMI out.
The video below was shot using a Canon EF 24-70 f/2.8L with ISO 800-1250.
In Behiri's own words:
Canon 6D is the latest in Canon's full frame HDSLR family and honestly, there is simply no substitute for the full frame sensor "look". The footage was taken with a pre production model camera and hopefully the video quality in the final version will be improved.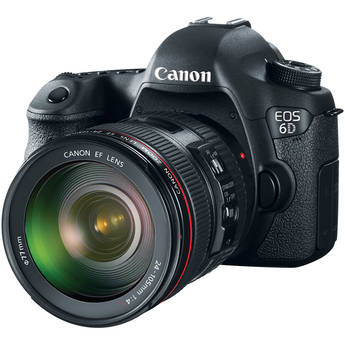 Adorama is also ready for pre-orders of the Canon EOS 6D. Click here to see all available kits and prices.
While BHphoto (Click here) is set to ship the Canon 6D tomorrow plenty of cameras are already in Stock and Shipping via eBay US:
The body only at GaryCamera (Click here) and PmiDigital (Click here).
The body with lens at PmiDigital (Click here).
eBay deals found via Slidoo.
A new Canon 6D test has been published at Focus Numerique (tranlsation here).
UPDATE: Price drop on two Samyang lenses:
$70 off on the 35mm f/1.4 at Amazon (deal starts at 12.35pm) and at BHphoto (Click here).
$80 off on the 14mm f/2.8 at BHphoto (Click here).
The Camera Store published a Canon EOS M field review video. Worth to be seen.
[via mirrorlessrumors]
Next release of Magic Lantern for Canon EOS 5D Mark III available for download (here). New tweaks:
Histogram and waveform moved to bottom
New experimental display for focus peaking (extreme sharpness)
16:9 bars for anamorphic preview
Focus box moves faster (not yet customizable)
After taking a picture and pressing Zoom In right away, you can scroll through pictures
Saturation boost when adjusting white balance
Warnings for bad settings (e.g. if you set picture quality to JPEG instead of RAW by mistake)
Dim the red LED while recording (make it less distracting)
Magic Lantern's homepage provides more information.
[via CR]
mmmm…Canon 6D ("beta quality") test footage from Johnnie Behiri on Vimeo.
BBC reporter Behiri had the lucky chance to play with the new Canon 6D. And what came out from his testing you can see on the video on top. Enjoy watching!
And here in very short are his pros and cons:
Camera strengths:
-Full frame sensor
-Clean high ISO in video mode (1250 is very mush usable).
-Manual audio adjusting
-PAL/NTSC
Camera weakness:
-Severe moire
-Soft image
-No headphone socket
-No audio through HDMI while recording (for monitoring audio on new EVF's)
-No clean HDMI output