A weird yet interesting comparison: Canon EOS D2000 (1998) vs EOS 5Ds R (2015)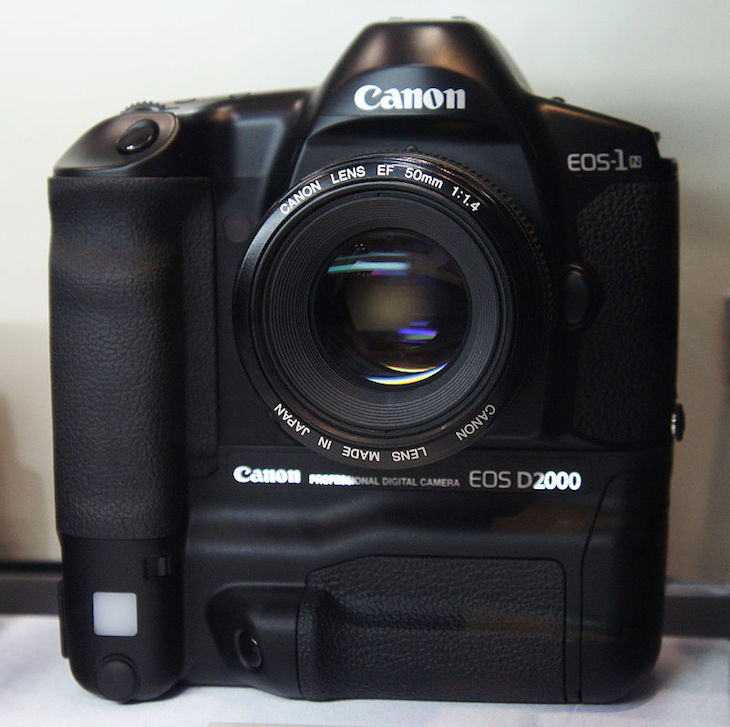 Let's play History Channel. The video below, by All Things Photo on YouTube, is about a bizarre comparison, one that truly dives into history. The venerable Canon EOS D2000, ancestor of all Canon DSLRs, is compared to the latest tech from Canon, the EOS 5Ds R. That's a 2MP sensor vs a 50MP sensor. To say it all, the D2000 is a branded Kodak DCS 520
, but it's also Canon's first digital SLR. The D2000 was developed by Kodak on a Canon EOS-1N
 body.
Canon D2000 key features:

2 megapixel
Crop factor of 1.6X
ISO 200-1600
File formats JPG or TIF
PCMCIA card slot
CCD sensor

Canon EOS 5Ds R key features:

50 megapixel
Full frame sensor (no crop factor)
ISO 100-12800
File formats RAW, JPG, more
SD/CF card slot
CMOS sensor
You may be surprised to see that the menu interface after all didn't change that much in 17 years. Do not miss mark 4:47 of the video and see how the D2000 performs in a low light setting. I bet some of the points in the video will surprise you quite a bit.
This is obviously a comparison that puts two extremes one against the other, shot by shot. It's curious, and interesting to see how far we have gone in 17 years. Enjoy!
[via
All Things Photo
 via
DIY Photography
]