Canon EF 200-400mm f/4L IS 1.4x Technical Report Published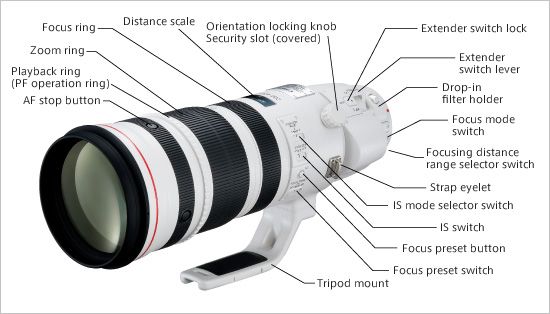 The Canon Camera Museum published the technical report of the EF 200-400mm f/4L IS 1.4x extender lens (Amazon | Adorama | B&H). About the development aims Canon writes:
We revamped four lenses in our EF super-telephoto lens series — the 300mm and 400mm in August 2011 and the 500mm and 600mm in May 2012 — to satisfy professionals and high-end amateurs. This product was developed with the aim of going one step beyond these lenses.

This lens is a super-telephoto lens with a built-in extender that has been newly designed so that one lens can cover a wide variety of shooting conditions and scenes. The extender switch lever lets users quickly switch the focal length range between 200-400mm and 280-560mm in one operation.

The lens carries a combination of fluorite and UD lens elements to deliver the image quality demanded of the super-telephoto lens series while also covering a focal length range of 200mm to 560mm with just one lens.

This high-power zoom lens is further equipped with superb operability alongside image stabilization functionality, reliable water and dust protection, and excellent durability.

The design carries forward the super-telephoto lens series' design concept and sensibility suitable for a flagship model while aiming for a high-grade feel and presence. The lens silhouette, which tapers from the front toward the mount, expresses the beauty of converging light. Each part has been expressly designed so that photographers can give their full attention to the shot.
You can access the index directly:
Canon EF 200-400mm f/4L IS Extender 1.4x
Amazon | Adorama | B&H
rent it at Borrow Lenses

[via TDP]