Canon EF 28mm f/2.8 IS Review (The Phoblographer)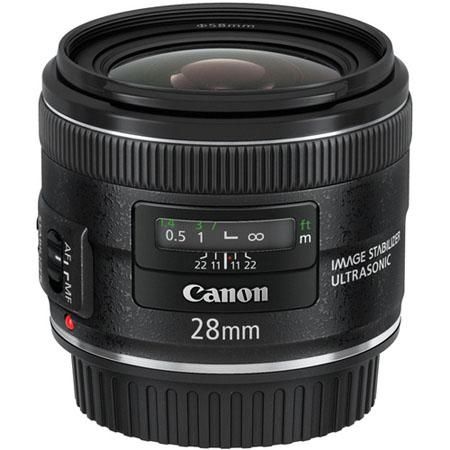 Canon EF 28mm f/2.8 IS USM
B&H Photo, Adorama, Amazon USA, Amazon Canada, Canon Canada, Canon USA
The Canon EF 28mm f/2.8 IS USM lens wasn't highly regarded when it was announced. The price tag and questioning about the need of IS for a wide angle lens were the main critics. However, things changed. First of all, the lenses price dropped in the months after its announcement, and for the time being the EF 28mm f/2.8 IS is on sale with a $150 discount (in the US) and has a price tag of $649. That's rather ok for a lens with such good characteristics. Let's see the specs (taken from Adorama's product page):
Optical Image Stabilizer provides up to 4 shutter speed stops ofcorrection.
Ring USM, high-speed CPU, and optimized AF algorithms for fast autofocusing.
Full-time manual focus for manual adjustment while in AF mode.
Aspherical lens elements improve peripheral image quality.
Circular diaphragm (7 blades) delivers beautiful, soft backgrounds.
Silent and smooth operation makes it suitable for video shooting.
Minimum focusing distance: 0.23m.
Compact design
The Phoblographer had his hands on the EF 28mm, and they were fairly impressed by the super fast AF, the brilliant colors, the build quality and the small size. The lens was tested using a Canon EOS 5D Mark II. In the conclusion they write:
We really have to admit: we're extremely pleased with what Canon is doing with this lens so far. The colors are awesome, the blur free possibilities is an excellent bonus, the sharpness is brilliant, and focusing is like I gave my 5D Mk II steroids. When you consider the fairly affordable price too, you'll realize that you're getting quite a sweet deal.
The review comes with plenty of sample images. IQ is really good, though there is some vignetting. I own the previous iteration (without IS) and it always was a lens that I loved to use. On an APS-C sensor the Ef 28mm becomes a (more or less) normal lens.
[via
The Phoblographer
]