Canon EF 40mm f/2.8 STM Review (Photography Blog)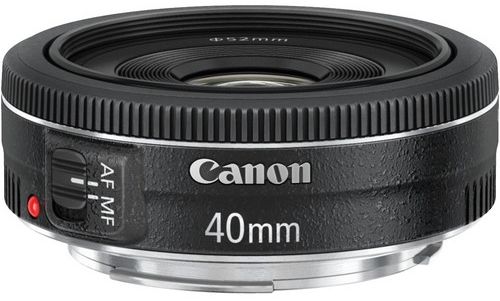 Canon EF 40mm f/2.8 STM
Amazon USA, B&H Photo, Digitalrev, eBay, Adorama, Canon USA
Photography Blog reviewed Canon's full-frame pancake lens, the amazing EF 40mm f/2.8 STM (now just $149), a lens with an excellent value for the money. All other reviews I featured here on Canon Watch confirmed the good optical performance of this relatively "cheap" lens. Cheap, here, means inexpensive and doesn't mean there are compromises on build or optical quality. Sure, it is not an "L" grade lens, but the little pancake has more to offer than just a low price tag or a great ease of use. The EF 40mm f/2.8 STM has a discount of $50 and is sold for $149 at both Adorama and B&H.
The specifications (form B&H's product page):
Continuous Autofocus for Video With T4i
Bright f/2.8 Aperture
Lightweight 4.6 oz Lens
Unobtrusive–Less Than 1″ Long
Aspherical Element–High Image Quality
Optimized Coatings Reduce Ghost & Flare
Exceptional Color Balance
7-Blade Diaphragm for Beautiful Bokeh
Close Focusing to 11.81″
64mm Equivalent If Used on APS-C Camera
Some excerpts from the Photography Blog's review:
When it comes to auto-focusing, the Canon EF 40mm f/2.8 STM zoom is a fairly slow performer, taking about 0.3 seconds to lock onto the subject when mounted on the Canon EOS 700D that we tested it with.

Chromatic aberrations […] are impressively well controlled
[Macro] close-focus point is a useful 30cm from the film/sensor plane (0.18x magnification)
[…] pleasing rendering of the out-of-focus highlights (bokeh)
Centre sharpness remains high through from f4 to f/11, with f/16 and f/22 being adversely affected by diffraction
Sample pics to learn about the sharpness are here, general sample pics are here. In the conclusion, among other things, they write:
Despite it's mostly plastic construction and affordable price, the Canon EF 40mm f/2.8 STM build quality is reassuringly good, certainly better than some of Canon's 50mm primes. It's a great match for either a full-frame Canon DSLR like the EOS 6D or an APS-C body like the EOS 700D that we tested it with, where the focal length changes to 64mm.