Canon EF-M 11-22mm f/4-5.6 IS STM Review – First Impression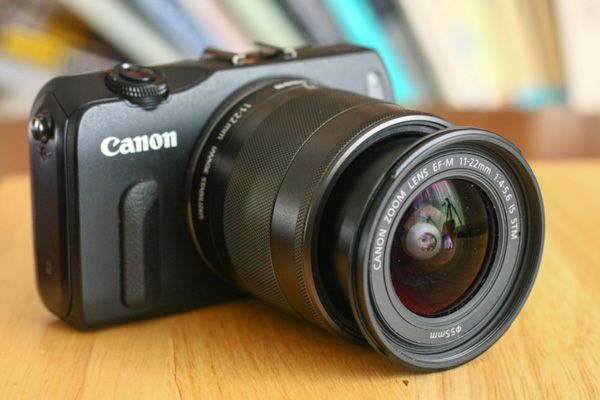 Canon EF-M 11-22mm f/4-5.6 IS STM
B&H Photo, Adorama, Amazon USA, Amazon Canada, Canon Canada, Canon USA
Please note: I am not a professional lens reviewer/tester. In this post I write about my first impressions with the lens, in the next days (I am very busy these days) I will post test series shot at all apertures, so anyone can check image quality and other issues. Stay tuned.
When Canon announced the EF-M 11-22mm f/4-5.6 IS STM last month I was surprised: rumors were suggesting primes and zooms for the EOS M, a ultra wide angle lens wasn't expected. And I was happy since I love wide angle lenses. Luckily I was able to get a production copy of the third lens Canon made for the EOS M system. It is since then the lens I use more often on my EOS M, it is the funniest, but not the cheapest. The EF-M 11-22mm has a price tag of around €400 in Europe. If you follow Canon Watch you probably know that the EF-M 11-22mm will not be sold in the US (for the time being). If you live in the US your best bet to get this lens is DigitalRev. More after the break.
OPTICAL FEATURES/SPECIFICATIONS
| | |
| --- | --- |
| Image size | APS-C |
| 35mm film equivalent focal length (mm) | 18-35 |
| Angle of view (horzntl, vertl, diagnl) | 91°50′–54°30′,68°55′–37°50′,102°10′–63°30′ |
| Lens construction (elements/groups) | 12/9 |
| No. of diaphragm blades | 7 |
| Minimum aperture | 22 – 32 |
| Closest focussing distance (m) | 0.15 |
| Maximum magnification (x) | 0.30 (at 22mm) |
| Distance Information | Provided |
| Image stabilizer | 3-stops |
| AF actuator | STM |
| | |
| --- | --- |
| Filter diameter (mm) | 55 |
| Max. diameter x length (mm) | 60.9 x 58.2 |
| Weight (g) | 220 |
ACCESSORIES
| | |
| --- | --- |
| Lens Cap | E-55 |
| Lens hood | EW-60E |
| Lens case/pouch | LP814 |
| Extender Compatiblity | NC |

Build quality, Handling and Ergonomics
The EF-M 11-22mm (equivalent to 18-35mm on full-frame) has a retractable design, a first for the EF lens range. The lens is locked in place by a switch. You first have to rotate the lens barrel while pulling the switch in order to operate it (otherwise the camera will issues a warning and refuses to operate the lens). As all other Canon EF-M lenses (and most part of the newer EF-S lenses) the 11-22mm AF system uses a stepping motor (that's the STM in the name) to focus. The stepping motor makes a silent and continuous AF possible, a feature you will appreciate when shooting video. For stills, you will appreciate a smooth and quiet AF motor that you can barely hear. Manual AF overwrite is possible. EF-M lenses do not have an AF/MF switch, you have to navigate the menu to change the setting.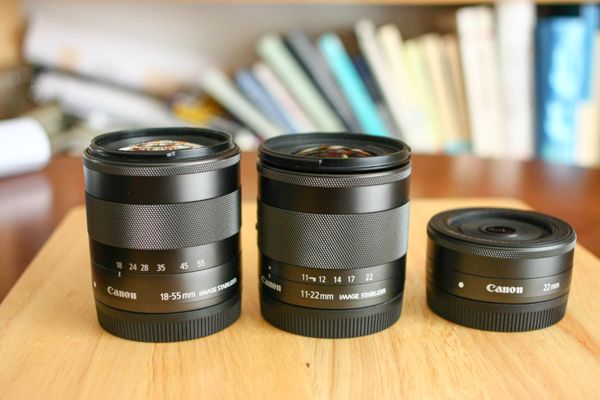 The 11-22mm has roughly the same size of the EF-M 18-55mm f/3.5-5.6 IS STM lens, when the former is retracted and the latter set to 18mm. It is not really a compact lens (as the EF-M 22mm pancake), but neither it is too bulky. It is made of metal (colour: graphite silver) and has a metal mount. All in all, the lens makes a good impression and doesn't feel or look cheap at all. The minimalistic design Canon is using on all the EF-M lenses doesn't for sure compromise the look and feel. The filter thread is a somewhat uncommon 55mm, the front element does not rotate. As usual with non-L lenses Canon does not deliver a lens-hood (no comment). With such a lens (the front glass is more exposed than on less wide lenses) a UV filter or a hood (the EW-60E) are recommended.
For the more engineering-oriented: The EF-M 11-22mm has two aspherical lens and one UD lens. Super Spectra coatings are used, and should help ensure accurate colour balance and high contrast as well as suppress flare and ghosting. There are 12 elements in 9 groups, and 7 diaphragm blades. The lens weights 220g (7.76 oz) and length by width is 58mm x 61mm (2.28″ x 2.4″).

Autofocus
I do not have the equipment to measure it in lab conditions, but I dare to say that on the EF-M 11-22mm the auto-focus is a bit speedier than on the EF-M 18-55mm. I am clearly using the latest firmware for the EOS M (v. 2.0.2). If you own an EOS M and are still using the old firmware then I recommend you update as soon as possible: the newer firmware dramatically improves the AF speed of the EOS M. Most of the time I shot using the FlexiZone Single setting. Besides the speed, AF is always very accurate. A last word on the EOS M Auto-Focus debacle. The EOS M got a lot of bad press because of the AF. Let me say that while is is true that the EOS M's AF was slow (before firmware 2.0.2), it seldom was an issue that you couldn't deal with (at least not for me). With the newest firmware the EOS M auto-focus is perfectly usable and au pair with industry standards (though there are some other mirrorless cameras that have a faster AF). The AF issue of the EOS M has almost become a sort of meme in this our world of photographers and gear lovers. It is not the fastest (and never will be) but neither it is the worst (when using firmware 2.0.2). Period.

Sharpness and Image Stabililzation
Comparing the 11-22mm to the 18-55mm, I would say that the 11-22mm is generally sharper. Could it be that the image stabilization is working better on the ultra wide EF-M 11-22mm than on the 18-55mm? It was one of my thoughts. Don't get me wrong: the EF-M 18-55mm is a sharp lens (though not as much as the EF-M 22mm) and I didn't have any problems so far, but the 11-22mm to me seems to be better image stabilized, and hence also sharper. This is a non-scientific statement and just my impression. For the records, Canon claims a 3 stop image stabilization advantage. In my experience there are definitely 3 stops advantage.
For videographers, the EF 11-22mm sports Dynamic IS. As Canon puts it: Dynamic Image Stabilization is able to correct a larger range of motion that steadies movies shot whilst walking.

Image quality
That's what we all are most interested in: image quality for the bucks we spend for our lenses. The EOS M sensor and the EF-M 11-22mm glass and optics appear to be a winning team. The image quality of the EF-M 11-22mm is very, very good up to f/14, after that sharpness declines visibly. Since I am still working on test shot series covering all apertures I won't say too much here. In real life settings the EF-M 11-22mm will not disappoint you.

Macro
You can do some macro photography with the EF-M 11-22mm. The minimum focusing distance is 0.15m (0.49ft, same as the EF-M 22mm f/2 STM) with a 0.30x magnification. It is not a true macro lens but 0.15m focusing distance isn't bad at all.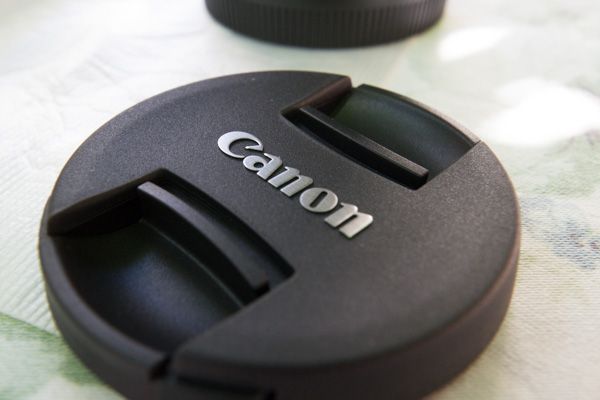 Final word
I am very happy with the EF-M 11-22mm f/4-5.6 IS STM lens, it is a wonderful piece of glass. I like ultra wide angles so for me the fun-factor of such a lens is out of discussion. Image quality is consistently very good, sharpness is very good until you stop down to f/14-16. AF is accurate (and I think also a bit faster than on the other EF-M lenses), and the lens is very sharp and with excellent levels of detail up to f/14-16. As I said above, I am working on test shot series covering the whole aperture range. When the series are ready I will come back to image quality and sharpness. In real life settings the EF-M 11-22mm f/4-5.6 IS STM will not disappoint you. AF is fast, accurate, and sharpness is good starting from f/4-5.6, I would say the hotspot is between f/5.6-11.
The EF-M 11-22mm is a great lens for all EOS M owner, be they landscape or architecture photographers or just photographers that want to explore the creative potential of an ultra wide angle lens. The EF-M 11-22mm is very well suited also for street photography and photojournalism (though I do not think photojournalists are using an EOS M), since it allows to capture a scene while being right in the middle of it. That's the way I like to do street photography. Small size, compact design and light weight make it the lens you won't miss on your EOS M.
Canon EF-M 11-22mm f/4-5.6 IS STM price check: B&H Photo, Adorama, Amazon USA, Amazon Canada, Canon Canada, Canon USA – For US customers: DigitalRev ships international.
Canon EOS M price check: B&H Photo, Adorama, Amazon USA, Amazon Canada, Canon Canada, Canon USA Canon EF-M 18-55mm f/3.5-5.6 IS STM price check: B&H Photo, Adorama, Amazon USA, Amazon Canada, Canon Canada, Canon USA Canon EF-M 22mm f/2 STM price check: B&H Photo, Adorama, Amazon USA, Amazon Canada, Canon Canada, Canon USA