Canon EF-M 22mm f/2 STM Review (slrgear)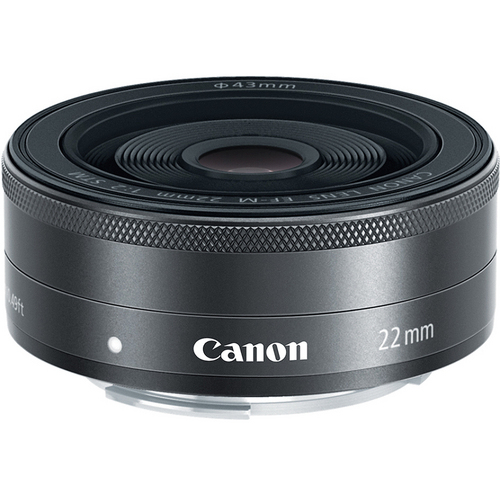 EF-M 2mm f/2 STM core specs:
Moderate Wide-Angle Lens for EOS M
Bright f/2 Lens Aperture
Exceptional Low-Light Performance
One Aspheric Lens Element
Built-In Stepping Motor
Smooth & Continuous AF
Seven Blade Circular Aperture
Short Minimum Focusing Distance of 5.9″
slrgear reviewed the Canon EF-M 22mm f/2 STM lens (price & specs), part of the Canon EOS M (price & specs) ecosystem. For the time being there are only two lenses for the EOS M system, the other one is the Canon EF-M 18-55mm f/3.5-5.6 IS STM(price & specs). I own this lens, and I have to say that I am overly satisfied by its performance, the featured review basically confirms my experience using the lens. Some excerpts:
The Canon EF-M 22mm ƒ/2 STM provided surprisingly sharp results.[…] Stopping down to just ƒ/2.8 provides very sharp images – for practical purposes, we would say it's tack-sharp from corner to corner.
There is some significant corner shading with the 22mm ƒ/2: used at the ƒ/2 setting, the corners show up a full stop darker than the center of the frame.
The 22mm ƒ/2 provides excellent resistance to distortion
The lens, while not specifically built for macro, offers some usable close-up capability [max 0.21x]
In the conclusion they write:
For a small and relatively inexpensive lens, the Canon EF-M 22mm ƒ/2 STM provides an excellent result. Given the few options available […] for Canon EOS-M users, having this prime lens as an option is a no-brainer.
The Canon EOS M with the EF-M 22mm f/2 STM is now sold for $679 on Amazon (click here), for $699 at B&H (click here) and Adorama (click here).
Canon EOS M price check: B&H Photo, Adorama, Amazon USA, Amazon Canada, Canon Canada, Canon USA Canon EF-M 22mm f/2 STM price check: B&H Photo, Adorama, Amazon USA, Amazon Canada, Canon Canada, Canon USA Canon EF-M 18-55mm f/3.5-5.6 IS STM price check: B&H Photo, Adorama, Amazon USA, Amazon Canada, Canon Canada, Canon USA
[via slrgear]