Canon EOS 6D Sensor Less Noisy Than EOS 5D Mark III
Interesting test made by Don Marcotte, a photographer with interests in astrophotography. He wanted to know which camera sensor among the EOS 6D and the EOS 5D Mark III produces less noise. The test was made with a rather simple setting: long exposures wit the cap on the lens (no light). Before looking at the results it is best to read Marcotte's disclaimer:
Please remember that this test was designed to determine the best camera for a very specific night photography project. I would expect that no one could detect a noise difference between the 6D and 5D3 for the vast majority of daylight photography. Only in low light conditions would a 6D deliver observably better results.
Ok, the EOS 6D produces less noise than the EOS 5D Mark III. Check the following images: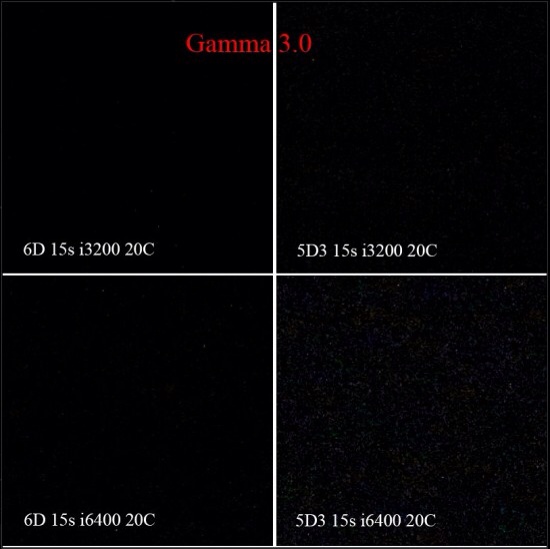 Above, 15 seconds exposure: Shot using camera store demo units at room temperature. RAW images converted to 16 bit TIFFs by Canon Digital Photo Professional. Created 400px X 400px crops and applied Gamma=3.0 in CS5.
Below, the 30 seconds exposure results: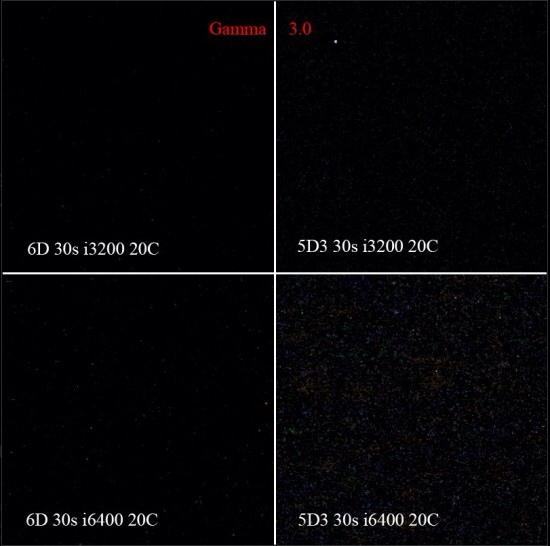 It is amazing that Canon's entry level full-frame DSLR produces less noise than the much more pricey EOS 5D Mark III!
On planet5D you can find Marcotte's full description of the test along with more informations and a comparison with the EOS 5D Mark II.
Canon EOS 6D price check: B&H Photo, Adorama, Amazon USA, Amazon Canada, Canon Canada, Canon USA
Canon EOS 5D Mark III price check:B&H Photo, Adorama, Amazon USA, Amazon Canada, Canon Canada, Canon USA [planet5D via PetaPixel]