Canon EOS C100 Reviews Round-Up (Mostly Videos)

Time for a round-up of reviews about the Canon EOS C100. The Canon C100 is on sale with a $1000 discount at both Adorama and B&H. The body only option is yours for $5499 (B&H | Adorama), the kit with the EF 24-105mm f/4L IS lens is sold for $6,099 (B&H | Adorama). Btw, if you are looking for a raincover for your precious C100, Petrol Bags has one (source: cinescopophilia):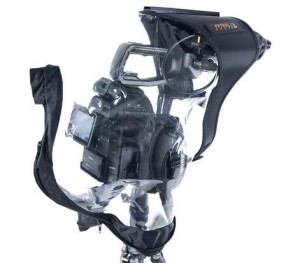 The C100 Rain Cover's transparent polyurethane construction provides for maximum visibility, while remaining serviceable down to -4 degrees Fahrenheit/-20 degrees Celsius. A cleaver front cover section featuring a microphone sleeve of rip-stop fabric attaches to the Rain Cover via two waterproof zippers for extra weather protection. A hot shoe connector in the cover's rigid front hood section anchors and stabilizes the rain cover on the camera. The PR400 also includes a 6" ABS track that allows for the addition of a mini light.
Before you dive into the videos, have a look why Cinematographer Ryan E. Walters prefers the EOS C100. There are 7 reasons for this: (source: nofilmschool)
It Is The Craftsperson, Not The Tool, That Matters
I'm Not A Rental House
Some Tools Are Easier To Use Than Others
I'm Not Interested In Hype, I'm Interested In Reality
Protecting Vision Is Important
Dynamic Range In Over Exposure Latitude Is Important
Low Light Performance Is Important
First of all, learn what you need to know about the EOS C100 in the video below, made by Filmtools:

Or the next video, which gives you a good introduction to the C100, C300, C500, and the 5D Mark III (price & specs).

Let us start with a video made by Joe Simon Films. They compare the EOS C100 to the EOS 5D Mark III (price & specs). They write:
We had a chance to use 2 Canon C100s to mix with our C300 to shoot an all EOS Cinema wedding. We put the C100 through the paces and compare it to our current wedding workhorse the Canon 5DMKIII.

This is not a scientific test but a test to see how the feel, look and weight of the cameras compares to the 5D and C300. Both of which we already own.

Tech info –
5D profile setting was on Neutral – Contrast and sharpness all the way down. I always use this profile to get a nice flat image and the best DR. I DON'Tuse cinestyle because I find in post I get much too much noise in the image.

C100 was set to CLOG, I also had NR set to 3. Sharpness all the to -10
Next, we have a video by Italian filmmaker Aldo Ricci. Some info about the used equipment:
Canon C100 – Lens Canon 24-70 2.8 – 70-200 2.8 and 16-354 2.8
BTS: CanonmarkIII – Lens 24-70 / 70-200
Cinevate slider
Canon EOS C100: Adorama | B&H.
Canon EOS C100 body only: B&H | Adorama
Canon EOS C100 with EF 24-105mm f/4L IS: B&H | Adorama