Deal: Lexar Professional 3500x CFast 2.0 Cards, Starting $79 for 64GB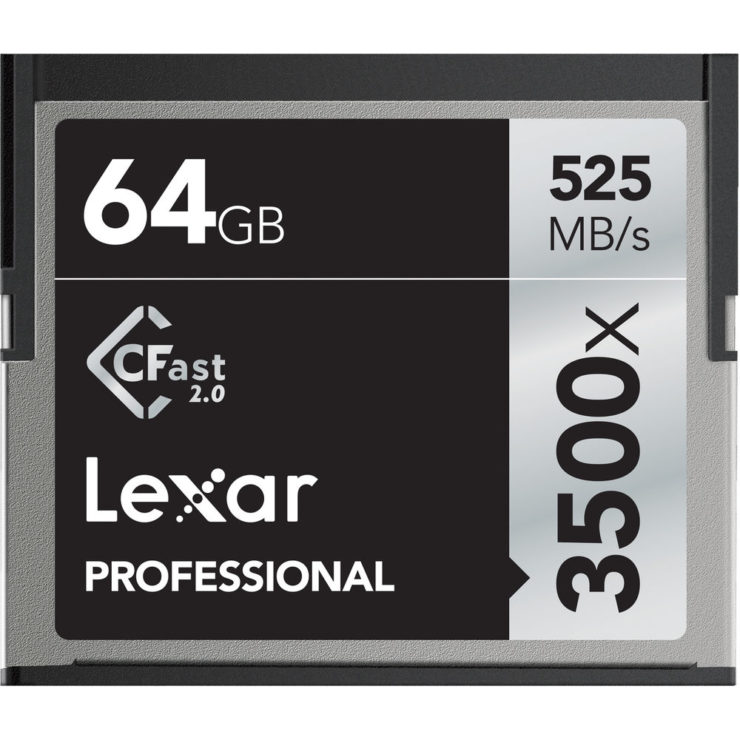 Only for today (9/17/20) B&H Photo has solid discounts on Lexar Professional 3500x CFast 2.0 memory cards.
Get Lexar Professional 3500x CFast 2.0 memory cards discounted up to 50%. Select the desired storage capacity on below the price.
At a glance:
64GB – 512GB Storage Capacity
CFast 2.0 Card Type
3500x Speed Rating
Max. Read Speed: 525 MB/s
More hand-picked deals are listed here.
Today's Gold Box and one day only deals at Amazon US, Amazon DE, Amazon UK, B&H Photo, eBay, Adorama.
Refurbished lenses and DSLRs at Canon Store (best deals might be found here)
Save $10 on Luminar 4 and/or Aurora HDR 2019 using our code "WATCH" at checkout.
Description:
Capture 4K content with ease using the 64GB Professional 3500x CFast 2.0 Memory Card from Lexar. This CFast 2.0 memory card features a large storage capacity along with data read speeds of up to 525 MB/s and write speeds of up to 445 MB/s allowing you to not only record 4K content, you can also capture RAW, ProRes, and other types of content with ease. Included with this card is the downloadable file recovery software, Image Rescue, making it easy to recover most photo and video files should they become corrupted or if they are accidentally deleted.
Powerful High-Speed Capture and Transfer Rates
The high-speed performance of the card maximizes the capabilities of next-generation, cinema-grade video cameras, allowing you to capture the highest-quality RAW, ProRes, and 4K video, and beyond. And with an industry-leading read transfer speed up to 525 MB/s, you'll quickly power through post-production.
High Storage Capacity
The card features a 64GB storage capacity designed to capture lots of footage, and keep shooting. So from the first take through to post-production, you'll have the speed and space you need to capture the highest cinema-quality video for your next masterpiece.
Capture 4K Content
The card has been developed to meet the intense demands of cameras capable of capturing 4K video and beyond. It's designed for compatibility with most 4K video cameras.
Lifetime Copy of Image Rescue Software
All Professional line memory cards include version lifetime copy of Image Rescue software. Image Rescue recovers most photo and select video files, even if they've been erased or the card has been corrupted. The software is available for free download with purchase of the card.