Deal: Ruggard Parka Cold/Rain Protector For Cameras – $39.93 ($79.95, today only)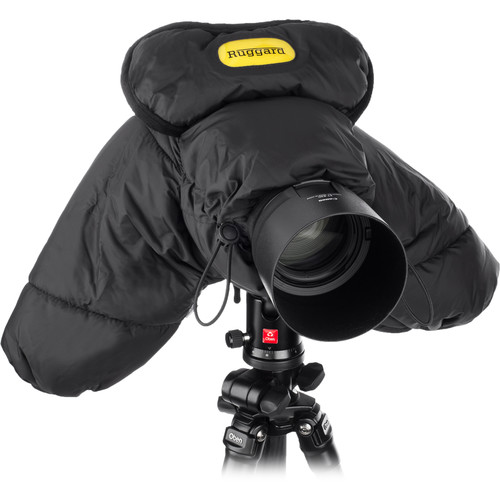 Only for today (2/21/2020) B&H Photo has a dal on the Ruggard DSLR Parka Cold and Rain Protector for Cameras and Camcorders.
Get the Ruggard DSLR Parka Cold and Rain Protector for Cameras and Camcorders on sale at $39.95. Compare at $79.95. Free shipping.
Key features:
Fits DSLR/Lens/Camera Shoe-Mounted Flash
Protects DSLR from Rain, Dust, Mud
See-Through Portal for LCD Screen/Finder
Full Access to DSLR Controls/Viewfinder
All hand-picked deals are listed here (odds are good some are still live).
Today's Gold Box and one day only deals at Amazon US, Amazon DE, Amazon UK, B&H Photo, eBay, Adorama.
Refurbished lenses and DSLRs at Canon Store (best deals to be found here)
Save $10 on Luminar 4 and/or Aurora HDR 2019 using our code "WATCH" at checkout.
Ruggard PAC-LBV2 Overview
Shooting with a DSLR camera or select camcorder in cold, wet, windy, and inclement weather is much easier and more pleasurable with the black DSLR Parka Cold and Rain Protector from Ruggard. The Parka will accommodate an up to 400mm lens with a hood and a speedlight. The water-resistant and windproof nylon outer shell and thick cotton batting help keep your hands and camera warm and protected. The added warmth is also good for extending battery life. A soft, anti-static fleece lining feels good to the touch and helps protect gear from scratches.

An elastic opening and drawstring are used to create a tight fit conforming to the size of the lens. Zippers make installing a camera quick and easy. In addition, there's a zippered top flap with touch-fastening strips for a flash, a lower zipper for tripod usage, and elastic openings for your hands. The rear see-through portal facilitates unimpeded viewfinder and LCD viewing. Photographers will appreciate having full access to camera controls and the included storage pouch with drawstring closure.
Nylon Outer Shell
The nylon outer shell is water resistant and windproof to protect your camera from the elements, and to keep your hands dry when shooting in inclement weather.
Cotton Batting
Cotton batting inner filling insulates the parka for warmth during cold weather.
Fleece Lining
A soft anti-static fleece lining protects the camera and provides extra warmth for your hands.
Access for a Flash
An access flap provides the option of mounting a shoe-mount flash while still taking advantage of the insulation and warmth the parka offers.
Tripod Access
A dual-zippered opening at the bottom of the parka offers access for mounting your camera on a tripod. The zippers close tightly around the tripod head, so warmth won't escape.
Hand Holes
The hand holes provide access to the interior of the parka to operate your camera.
See-through Pane
A see-through vinyl pane at the back of the parka gives you a clear view of the camera's LCD display and buttons.
In the Box
Ruggard DSLR Parka Cold and Rain Protector for Cameras and Camcorders (Black)
Storage Pouch with Drawstring