Deal: Sigma 70mm f/2.8 DG ART Macro – $479 (reg. $569, today only)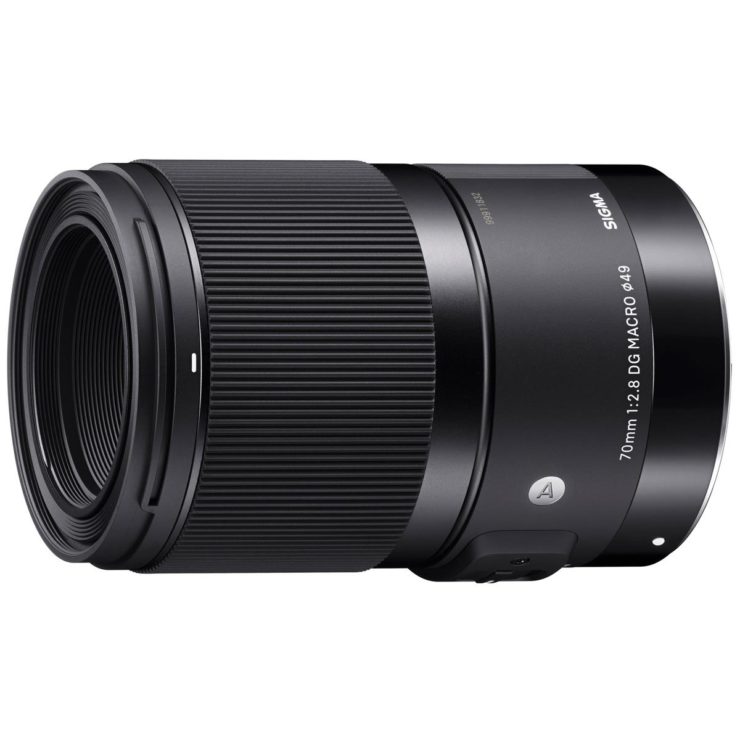 It's Black Friday time so there will be more deal posts than usual. Apologies to those not interested. Here is a Sigma 70mm f/2.8 DG ART Macro deal.
Only for today (11/23/20) Adorama has the Sigma 70mm f/2.8 DG ART Macro on sale at $479. Compare at $569.
At a glance:
Mount with dust- and splash-proof design*
Rounded diaphragm
Fast AF with full-time manual override
Compatible with SIGMA MOUNT CONVERTER MC-11
Available SIGMA USB DOCK makes customization and flexible adjustment possible
Brass bayonet mount
"Made in Japan" with outstanding craftsmanship
More hand-picked deals are listed here.
Get 20% off handmade Hyperion camera straps with code BlackFriday, or use BlackFridayBuy3 to buy three straps and get the forth for free.
Today's Gold Box and one day only deals at Amazon US, Amazon DE, Amazon UK, B&H Photo, eBay, Adorama.
Refurbished lenses and DSLRs at Canon Store (best deals might be found here)
Save $10 on Luminar 4 and/or Aurora HDR 2019 using our code "WATCH" at checkout.
Deacription:
The Successor Of The Legendary, Razor-Sharp Macro Lens—
The SIGMA MACRO 70mm F2.8 EX DG
In recent years, macro lenses in the standard range have tended to employ inner focusing with the goal of maximizing autofocus speed. In contrast, the new SIGMA 70mm F2.8 DG MACRO | Art lens is designed to prioritize optical performance, fulfilling the demanding image quality requirements that define the Art line. In the standard to mid-telephoto range, it delivers stunning resolution and incredible clarity that greatly exceed expectations for a macro lens. The coreless DC motor further enhances image quality, while an optimized algorithm helps offer extremely smooth autofocus performance for a weightier, high-performance lens. Photography enthusiasts will recall a certain legendary, razor-sharp macro lens—the SIGMA MACRO 70mm F2.8 EX DG—and be glad to learn it is available in a new form, updated with outstanding Art line quality.
Design Prioritizing Optical Performance.
Top-level performance at every shooting distance.
In order to realize top-level performance at every shooting distance, the lens features an extending, floating, two-group focus mechanism. This configuration minimizes aberration to produce optimal results at any focus distance. To minimize axial chromatic aberration, the optical system incorporates two FLD glass elements, two SLD glass elements, and one element with a high rate of anomalous partial dispersion and a high index of refraction. In addition, two aspherical lens elements help increase resolution at close shooting distances. This optical system makes possible a razor-sharp in-focus area contrasted with a bokeh area free of color streaking.
Designed To Minimize Flare & Ghosting.
From an early stage in the lens design process, flare and ghosting have been measured to establish an optical design resistant to strong incident light sources such as backlighting. SIGMA's Super Multi-Layer Coating reduces flare and ghosting to help photographers produce sharp and high contrast images even in backlit conditions. The included lens hood can be attached to block out extraneous light, which can have a negative effect on rendering performance.
Exclusive Low-Dispersion Glass.
The degree to which light is refracted by glass depends on the light's wavelength. This fact causes different colors of light to focus at slightly different points. The result is chromatic aberration, the color fringing that is particularly noticeable in telephoto lenses. Most chromatic aberration can be removed by combining a high-refractivity convex lens element with a low-refractivity concave element. Yet residual chromatic aberration known as "secondary spectrum" may still remain. To minimize this secondary spectrum, which can be a serious issue with conventional lenses, SIGMA lenses feature up to three types of exclusive low-dispersion glass offering superior performance: ELD (Extraordinary Low Dispersion), SLD (Special Low Dispersion) and FLD ("F" Low Dispersion). In particular, FLD glass offers ultra-low dispersion in combination with high transmittance and the anomalous dispersion characteristics of fluorite. Meticulous deployment of these types of exclusive low-dispersion glass and optimization of power distribution gives SIGMA lenses superlative image rendition undiminished by residual chromatic aberration.