Deal: Vanguard VEO 2 Aluminum Tripod with Ball Head – $84.99 (reg. $169.99, today only)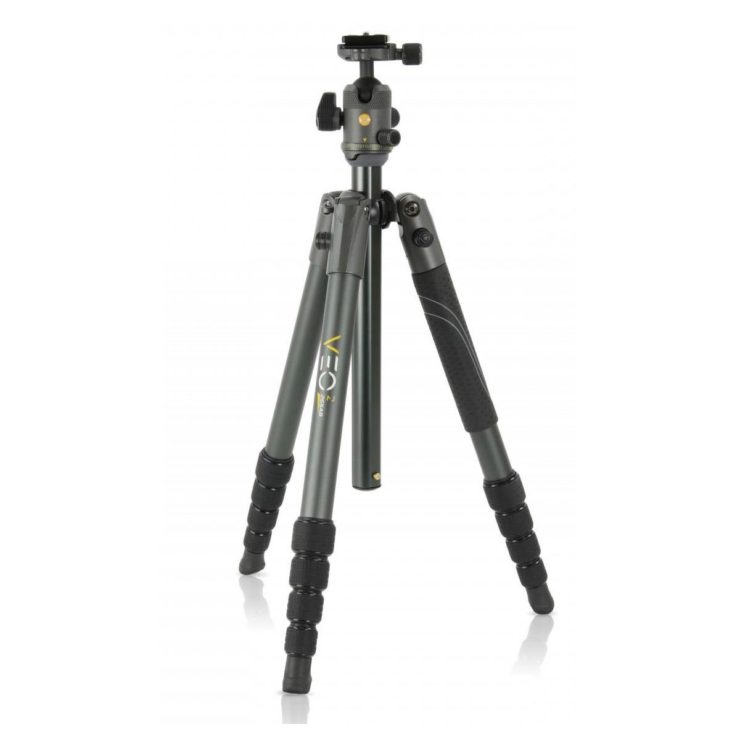 Only for today (4/20/21) Adorama's Deal of the Day features a 50% discount on the Vanguard VEO 2 265AB Aluminum Tripod with VEO 2 BH-50 Ball Head.
At a glance:
Intuitive operations to set the tripod into desired position: Exclusive and innovative Central Column system that allows you to set the central column and tripod legs in less than 15 seconds
1st rate material (Magnesium, Aircraft Aluminum alloy) for lightweight, robust and long-lasting sessions of work or play
Multi-action Ball Head with 3 independent knobs for lock, pan, and friction control operation. Ergonomic knobs providing 8kg / 17.6lb work load performance for quality images. Arca compatible QR place
Advanced Twist lock system for fast and rock solid position setting. Extend the 4 sections in a matter of seconds
High engineering leg tube for smooth and precise legs extension
Dedicated suspension loop on canopy to welcome counterbalance weight or bags for additional stability
Independent Leg positioning at 3 different angles (20deg. , 45deg. , 80deg. ) for greater position possibilities to adapt to uneven terrain and to shoot more creative pictures
Non-slip, all-weather TPU grips on 1 leg for perfect grip on hand
Angled rubber feet to carry and position firmly on ground (spiked feet available, sold separately)
Bonus tripod bag with extension system to welcome any size of standard heads
Standard warranty applicable by national law (minimum 2 years) + 8 years extension warranty bonus by registering product in Vanguard website
Get the Vanguard VEO 2 265AB Aluminum Tripod with VEO 2 BH-50 Ball Head on sale at $84.99. Compare at $169.99. More about the tripod after the break.
---
Hand-picked deals are listed here.
Deal pages:
Refurbished lenses and DSLRs at Canon Store (best deals to be found here)
Save $10 on Luminar 4 and/or Aurora HDR 2019 and/or Luminar AI using our code "WATCH" at checkout.
Description:
VEO 2 265AB is an easily portable and super lightweight, 26mm, 5 sections Aluminum travel tripod kit with a multi action ball head and a maximum work load of 8 kg / 17.6 lbs. It weighs only 1.5 kg / 3.4lbs and can be extended up to 150cms / 59″. VEO 2 265AB features the exclusive & unique central column rotation system that allows you to set the tripod in a snap of the fingers as well as the new advanced twist 1/4 turn lock/unlock system for fast deployment and solid setting.
The VEO 2 BH-50 ball head operates perfectly with 3 independent dedicated knobs for lock, panning and friction control. The best tripod is the one you always can carry with you. Stop being two-legged when you could use three! Composing photographs of unique architecture from different civilizations, capturing unexpected moments of wildlife, beautiful scenes of cultures and people from around the world, browsing different sites and taking in the various beauties of nature are unique opportunities to share your stories and emotions. Take it everywhere with you!
Set it up in matter of seconds, use the Advanced Engineering legs and twist locks systems with confidence while enjoying versatile creative positions. The VEO 2 265AB tripod has been built to be your "best passport" for travel photography. With a snap of the fingers, swing the VEO 2 central column into place, connect your camera and you're ready to shoot at a moment's notice. The VEO 2 BH-50 Multi-action Ball Head is sturdy and operates perfectly with 3 independent dedicated knobs for lock, panning and friction control. The Arca type compatible plate with 1/4″ D-ring offers quick camera attachment and release.
The 5 section Aluminum legs comes with a rapid advanced twist lock system ergonomically designed to be extended with one hand and lock in at less than 10 seconds. The low angle adaptor and the 3 leg angles at 20deg. , 45deg. and 80deg. ensure perfect positioning and stability on uneven terrain and also offers you the ability to take more creative pictures from different angles. With angle designed rubber feet, VEO 2 grants you the perfect grip on the ground. VEO 2 SF spiked feet (sold separately) will ensure the perfect grip for outdoor environments.
The dedicated suspension loop on canopy accommodates counterbalance weights or bags for additional stability… A stylish design with a soft rubber handle provides an unbeatable grip. Use the included carrying tripod bag with shoulder strap when you are ready to go to your next photo adventure.