First Sigma 50mm f/1.4 Art Review (the Sigma beats Canon and Nikon's competition)
SLR Gear had the chance to review the Sigma 50mm f71.4 DG HSM "Art" lens. A lens Sigma claims will compete with the Zeiss Otus 55mm f/1.4 (priced around $4000).
The Sigma 50mm f/1.4 Art seems to hold up to the hype and the expectations. They compared the Sigma with Canon's 50mm f/1.2L lens (price & specs), among other lenses like the Nikon 58mm f/1.4G AF-S Nikkor, and, when it comes to sharpness, the Sigma 50mm f/1.4
sharpness holds up very well against this competition. At f/1.4 and on a full-frame camera, it pretty well blows all of the others out of the water. The Canon 50/1.2L is pretty sharp in the center, but the corners are extremely soft.

The other lenses all improve at f/2, but so does the Sigma 50, easily bettering all the others, at every point across the frame. At f/2.8, the Sigma's blur characteristic is almost perfectly flat, and quite sharp everywhere.
Chromatic aberrations are quite well controlled in the Sigma 50mm f/1.4 and vignetting is lower than on the Canon. And what about distortion? The Sigma has an almost immeasurable geometric distortion. The Sigma 50mm is
very well built, making use of their Thermally Stable Composite material, that despite technically being a form of polycarbonate plastic, looks and feels more like metal (and shares similar thermal properties to aluminum, as well)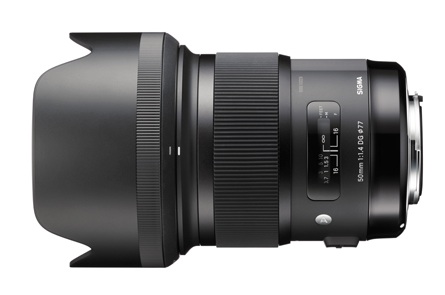 They conclude:
The Sigma 50mm f/1.4 Art is the most exciting lens we're likely to review this year. All competing lenses from Canon and Nikon fell short when compared to the resolving power of the 50mm Art. We haven't (yet) tested the very best from Zeiss, but we are confident Sigma will trounce it in one key area: price. This difference is likely to be a yawning chasm. Our expectation for pricing on this lens is for something at least a bit less than Canon's 50mm f/1.2 L, which goes for $1,700; despite a variety of rumors and no official price for the Sigma yet, we're expecting it'll be less than that.
I think this is the very first full review of the Sigma 50mm f/1.4 DG HSM "Art" lens, and it is definitely worth to be studied. Test charts and sample pics are included.
It appears Sigma is about to launch another awesome lens, one that could be more outstanding even than the Sigma 18-35mm f/1.8 DC HSM (price & specs) and the Sigma 35mm f/1.4 DG HSM (price & specs), two of Sigma's new lenses that are highly regarded by the community. We have just to wait to know the price :-)
Have a great sunday!
[via
SLR Gear
]