Kuuvik Capture 2 tethering software for Mac released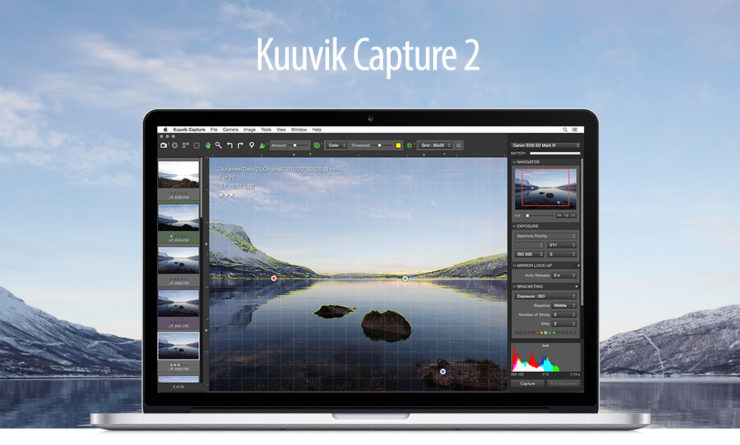 Kuuvik Capture 2 is the ultimate professional tethering app for the Mac. From the smooth two-way communication through the world's first split live view, to focus peaking and adjustable sharpening –each and every feature of the app serve the photographer's aim to capture beautiful shots. The complicated work of tethered shooting become as easy you never dare to imagine.
From simple mirror lock-up and release automation, through 15-shot exposure brackets to 30-shot focus brackets, the app covers everything. You can freely combine brackets with the intervalometer and mirror lock-up, while the Bracketing Monitor oversees your settings and warns you about potential problems.
Besides these Kuuvik Capture 2 puts quick culling of large shoots on a new basis, employing a positive mindset: focus on only the best photos, star them, and Kuuvik Capture will purge the rest in the blink of an eye. You will be amazed how fast you can cull your photo sessions, I promise.
For all these features Kuuvik Capture employs modern GPU-based solutions, and uses dramatically less CPU power than any other similar app in the industry – so you can enjoy tethering out in the field much longer. And one more thing: We not just support Canon's new 5DS and 5DSR cameras, but Kuuvik Capture was built for them. Downloading and displayin 50 megapixels takes less than 2s. Fast, isn't it?
You can download Kuuvik Capture 2 from the Mac App Store for a discounted price ($59.99 / €59.99 / £44.99) until the end of August. This discount serves as an upgrade price for existing users as well as an introductory price. From September the price will be $99.99 / €99.99 / £79.99.
For more info please visit  the following sites: http://www.kuuvikcapture.com and http://www.laszlopusztai.net/tag/kuuvik-capture/.
Graphical image browser.
Positive selection, fast culling.
Multi-touch gestures.
Streamlined user interface to give more screen space to your images and to support the new MacBook.
New raw decoding engine which is up to 5x faster than the open source library used previously. And consumes way less memory in the process.
Improved image display quality.
Improved focus peaking visibility in some situations.
Exposure information for the currently displayed image below the histogram.
RAW label to show when the histogram is generated from raw data (instead of white balanced 'jpeg' data).
Session information can be overlaid on the displayed image.
11 new guide templates, including golden ratio, a dense 30×20 grid and several aspect ratio lines, such as 1:1, 5:4, 16:9.
Selectable guideline color.
Color pickers for both peaking and guides allow you to set the opacity.
A new menu item and hot key to cycle peaking color presets (yellow, white, green, magenta). Cycling also include your chosen custom peaking color if there's one.
All panels (not just the Navigator) can be quickly revealed.
Event Log to notify you about problems that may influence your shoot (such as inability to write to the download folder or interference with other concurrently running remote control apps).
Open in Application command to directly open the CR2 files in your favorite RAW converter.
Ratings in the CR2 files (set in the camera) are now honored.
Clipping display control menu items to the image area's context menu.
Ability to work with Canon EOS 5DS and 5DS R images on computers that lack the GPU resources needed to display these images. Images are now downsized to 24 megapixels for display in this case (RAW files remain in their full resolution).
Added support for Canon EOS 5DS, 5DS R, 7D Mark II, 1Ds Mark III, EOS 750D / Rebel T6i / Kiss X8i, EOS 760D / Rebel T6s / 8000D and EOS 1200D / Rebel T5 / Kiss X70 cameras.
64-bit application for improved speed and efficiency.