Reminder :: Exclusive deal :: Save 82% on HDR projects 4 professional – $39 (reg. $198)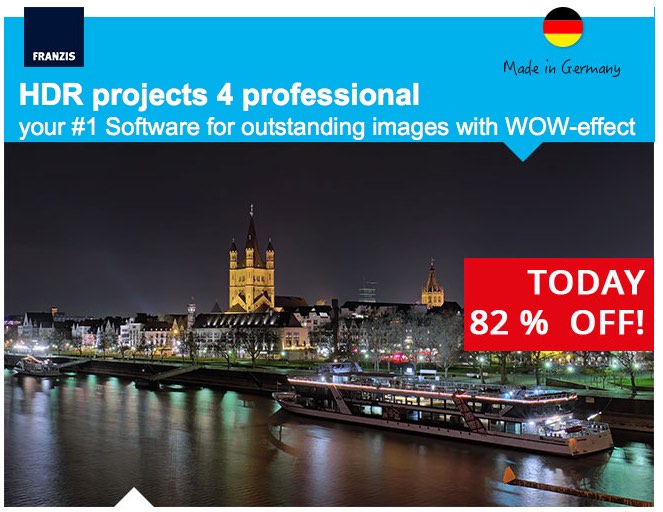 I am happy to offer another exclusive deal to our readers. Get Franzis' HDR projects 4 professional software for just $39 instead of $198, that's a 82% saving. It works for Mac and Windows. The offer lasts until August 31.
HDR projects 4 professional enables you to generate very precise lighting situations that are not possible with "normal" photography or photo editing. The newest process for super realistic images with unbeatable contrast and detail that you have never seen before.
Just seconds after uploading your original image, HDR projects 4 presents you with 82 versions of your photo. That's 82 ideas, 82 tips, 82 sources of inspiration. Every image is individually analysed and with the best possible effects, no example is like any other.
Ultra HDR for photos that are even more impressive
Full-fledged  Lightroom plug-in included for free
Innovative & sensitive selective photo editing,
For Mac and Windows
Can be used in various ways: HDR projects 4 works as a plug-in to Adobe® Photoshop® and Lightroom®, and as a standalone application.
Real Lightroom Plugin for maximum comfort. Your advantage: Perfect integration in your personal workflow
7 New Effects: Noise removal – color clouds, Noise removal – banding, exposure curve, rim light distribution, white and black correction, color gradients, aura
Algorithm Browser: Makes the HDR-Algorithm visible and assessable. Your advantage: No more guesswork – you'll see how changes effect your photo immediately!
History-Browser: HDR projects never forgets, no work will be lost.No step in your workflow will be lost!
Expansion of the RAW-Module for white & black correction and additional noise removal methods
Selective Editing for Every Post-processing Effect. Each area of your photo can be edited with the effect that is best fitting!
Sensitive Selecting for 7 Effects with intelligent brushes and automatic edge recognition: Dodge, Burn, Saturation, Desaturation, Increase Detail, Decrease Detail, Sharpen
Fast-Optimization-Assistant: Set the image look with just one click. Your Advantage: The name says it all: Fast Optimization!
Up to 10 Times Faster: shorter waiting times while editing, even with large image series. Time is money, not only for professional photographers
For more information about HDR projects 4 professional and to download a free trial version click here, to purchase it at $39 click here.