[Review] Tamron AF 24-70mm f/2.8 SP Di USD VC Tested By Photozone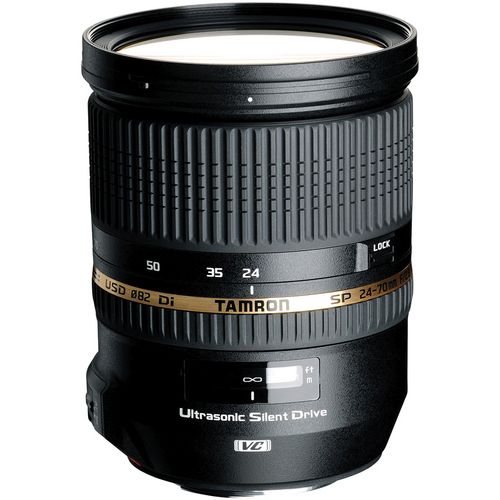 We already have seen a review (with specs) and a comparisons involving the new, weather-sealed Tamron AF 24-70mm f/2.8 SP Di USD VC lens. Now also well reputed photozone.de published a review (samples and conclusion here). The impression is generally positive. A few excerpts from the review…:
The build quality of the Tamron lens is on a professional-grade level
The ultrasonic AF drive (USD) is both very fast as well as virtually silent
At 24 mm the lens shows a heavy amount of barrel distortion (~3.8%), which flips over to a slight pincushion type (~0.8%) at 70mm. In the middle range the distortions are marginal.
The lens delivered very solid resolution figures in the MTF lab. At 24mm the center resolution is already superb at f/2.8.
At 24mm f/2.8 the amount of vignetting is very pronounced at more that 2EV […] can be decreased by stopping down
The conclusion sounds also good, giving this lens an overall, positive assessment.
[…] the Tamron AF 24-70mm f/2.8 SP Di USD VC is an impressive lens. It is capable of delivering very sharp results at medium aperture settings and at max. aperture the center quality is more than decent. Lateral CAs are very low which contributes to the high sharpness perception.
The build-quality is pretty good, making this lens more rugged than it may look at first glance:
[…] the Tamron AF 24-70mm f/2.8 SP Di USD VC. The lens barrel is mostly made of plastics but it is of high quality and it is tightly assembled. The new weather sealing is very welcome
The following sellers have the Tamron AF 24-70mm f/2.8 SP Di USD VC lens in stock and ready to ship:
I provide more world-wide availability and price check options (be aware that the Tamron AF 24-70mm f/2.8 SP Di USD VC may not be available right now in some countries):
America: B&H Photo, Adorama, Amazon USA, Amazon Canada, Canon Canada, Canon USA
Europe & UK: Amazon DE, Amazon UK, Amazon IT, Canon IT, WEX Photographic, Canon FR, Canon UK, Canon DE