Samyang 24mm f/1.4 Gets Same DxOMark As Canon 24mm f/1.4L II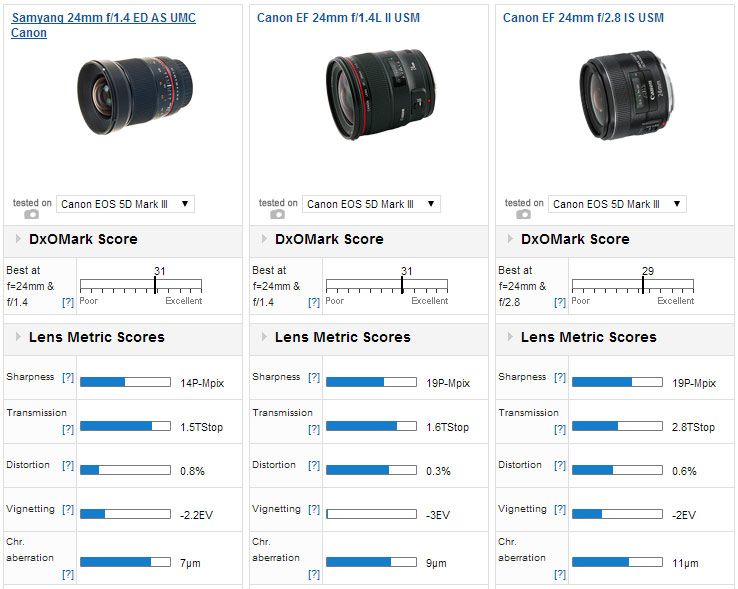 DxOMark felt the pulse of the manual focus Samyang/Bower/Rokinon 24mm f/1.4 (price & specs), and it turned out the Samyang got the same DxOMark score (31) as Canon's Ef 24mm f/4L II lens (price & specs). The Canon is sharper and has less distortion but the Samyang produces less vignetting and chromatic aberration are better controlled at all apertures.
From the conclusion:
Although the Samyang is a phenomenal performer, when stopped its sharpness wide open doesn't match that of rival high-speed designs. Given the modest pricing [$669] it will no doubt continue to be a popular model but it would be all the more attractive with the addition of automatic aperture control and perhaps AF-assist (though it's often unreliable without experience). There's another, often overlooked benefit from the inclusion of data transmission – EXIF data stored in Raw files could be used by third-party software suppliers to apply lens corrections. Future updates such as these would seem likely but for now the Canon mount version is overshadowed by the better performing rivals.
It is up to anyone to know if a manually operated lens like the Samyang is ok for their needs. The optical performance is very good and if you have at last a minimum of photographic experience, then this lens shouldn't be a problem at all.
Samyang/Bower/Rokinon 24mm f/1.4 price check: Amazon DE, Amazon UK, Amazon IT, Wex Photo Video, Canon DE, Canon UK Canon's Ef 24mm f/4L II price check: Amazon DE, Amazon UK, Amazon IT, Wex Photo Video, Canon DE, Canon UK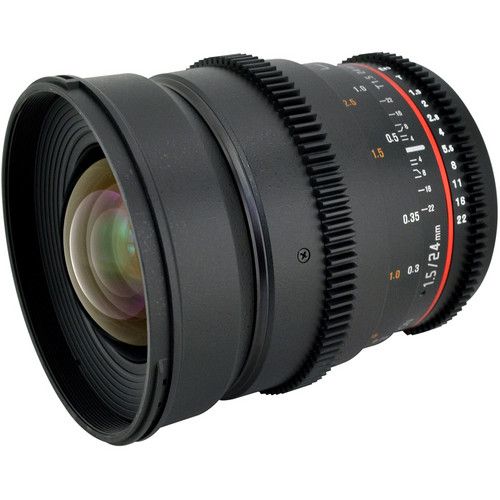 Specs and description after the break.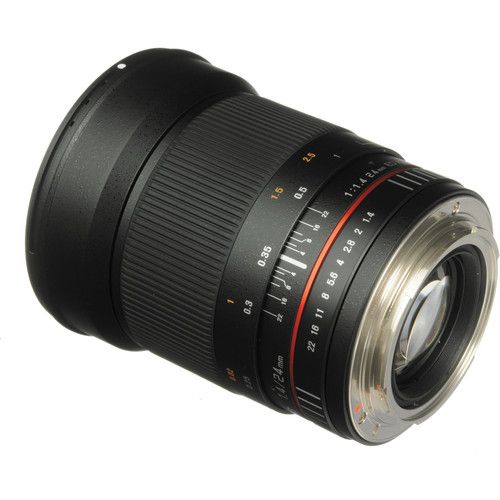 The Samyang 24mm f/1.4 ED AS UMC Wide-Angle Lens for Canon gives you a wide 84° view when used with a full-frame 35mm camera, 57.6° when used with an APS-C camera or 47.6º with Four-Thirds cameras. Four low-dispersion (ED) glass elements and two aspheric elements produce sharply defined images with a minimum of aberrations. The lens focuses as close as 9.84″ from the lens, giving you outstanding wide-angle close-up views. A multi-layered and anti-reflection UMC coating provides superb light transmission and reduced flaring. This lens will operate in Aperture Priority, Shutter Priority, Program, and Manual exposure modes. It is a manual focus lens.
Ideal for landscapes, interiors, street photography, low-light photography and general photography.
Constructed with hybrid aspherical lenses for outstanding, sharply defined images.
Features super multi-layer coating to reduce flare and ghost images.
Lens has a minimum focusing distance of 9.84″ for enhanced close-up shots.
For Canon cameras
Performance
Focal Length
24mm
Aperture
Maximum: f/1.4
Minimum: f/22.0
Camera Mount Type
Canon EF
Format Compatibility
35mm Film / Full-Frame Digital Sensor
Canon (APS-H)
Canon (APS-C)
Angle of View
84.1°
APS-C Picture Angle: 57.6°
Minimum Focus Distance
9.84″ (24.99 cm)
Elements/Groups
13/12 1
Diaphragm Blades
8
Features
Image Stabilization
No
Autofocus
No
Tripod Collar
No
Physical
Filter Thread
Front:77 mm
Dimensions (DxL)
Approx. 3.27 x 3.74″ (83 x 95 mm)
Weight
Not Specified By Manufacturer