Sigma 50-150mm f/2.8 EX DC APO OS HSM Review (ephotozine)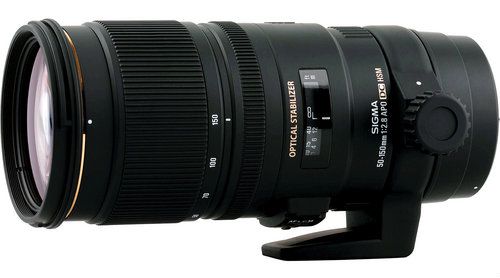 This is pretty interesting zoom lens. Though it is not part of Sigma's newer, high level line-up, the Sigma 50-150mm f/2.8 EX DC APO OS HSM for full-frame APS-C DSLRs (75-225mm on APS-C) has a constant f/2.8 aperture over the zoom range and optical stabilization, and comes at a price that will not put a hole in your pocket (less than $1000). The Sigma 50-150mm f/2.8 EX DC APO OS is comparable to Canon's similar specced EF 70-200mm f/2.8L IS USM II. The Canon, though, has a higher price tag (around $2499). ephotozine reviewed the Sigma 50-150mm f/2.8 and gave the lens a rating of 4/5.
The specs (from B&H's product page):
80-240mm (equivalent) Lens for APS-C
Fast Maximum Aperture of f/2.8
Optical Image Stabilization
Multi-Layer Coating Reduces Flare
Quiet, High-Speed Autofocus
Inner Focusing and Inner Zooming System
SLD Glass Elements Reduce Aberrations
9-Blade Diaphragm For Good Bokeh
Some excerpts from ephotozine's review:
Weighing around 1.3kg, this lens is quite hefty, even though it is more compact than similar lenses
A HSM motor powers autofocus, resulting in quick silent focus and the ability to apply manual focus adjustments at any time
[about the image stabilization]: with care, sharp images can be produced around half the time with shutters speeds as low as 1/30sec at 150mm
At 50mm, sharpness is already outstanding in the centre of the frame at maximum aperture
[…] performance is maintained at 100mm, with excellent sharpness in the centre
[…] at 150mm, there is a slight drop in performance in the centre of the frame at maximum aperture
In the conclusion they write:
This lens is a solid performer, capable of delivering high quality images with decent sharpness, even if the performance it delivers isn't mind-blowing in any way. The lens is well specified, and the value for money it offers holds up well when the price of competing lenses are taken into account. Those in the market for a serious f/2.8 medium telephoto zoom for their APS-C format Canon or Nikon DSLR would do well to consider this lens.
Check a few samples below (all pics used with permission). ephotozine's review comes with more sample images (high-res), and with test charts.