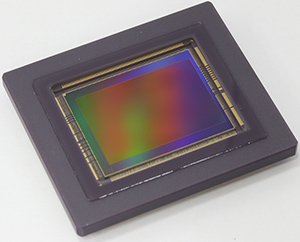 Back in January, at CES 2018, Canon gave some insights in their R&D labs. Three sensors were presented.
The sensors are a 120 Megapixel CMOS Sensor, a 5 Megapixel Global Shutter CMOS, and a 19μm Full HD CMOS Sensor. If you're curious to learn more click here.
The Canon 120MXS sensor, with a 120MP resolution shows what Canon is capable of. This kind of sensor can be used for many applications, surveillance, scientific experiments, medical etc. For a mirrorless camera too, I guess. It's APS-H format.
The 120MXS is an ultra-high resolution CMOS sensor with 13280 x 9184 effective pixels(approx. 60x the resolution of Full HD). It has a size equivalent to APS-H (29.22mm x 20.20mm), and a square pixel arrangement of 2.2µm x 2.2µm with 122 million effective pixels. Ultra-high-resolution is made possible by parallel signal processing, which reads signals at high speed from multiple pixels. All pixel progressive reading of 9.4fps is made possible by 28 digital signal output channels. It is available in RGB or with twice the sensitivity, in monochrome.
The video below gives you a good idea what you can do with this sensor.