Canon Q3 2019 financial results are in, and it doesn't look good for Canon on the financial side of things.
At a glance:
We have actively launched new products in our core businesses throughout the year, including the third-quarter. And in each region, sales of these products have been in line with our plan, despite the macro environment becoming more challenging since our last earnings announcement in July. The effects of new products launched up to September of this year, have led to an improvement in our share of the MFD and laser printer markets and have contributed to improvements in our Medical System business performance.

The significant appreciation of the yen and prolonged U.S.-China trade friction, however, has led to a global economic slowdown, particularly in Europe and such emerging markets as China. As a result, net sales declined 6.2% to 869.5 billion yen, operating profit dropped 43.7% to 38.4 billion yen, and net income fell 42.7% to 26.5 billion yen.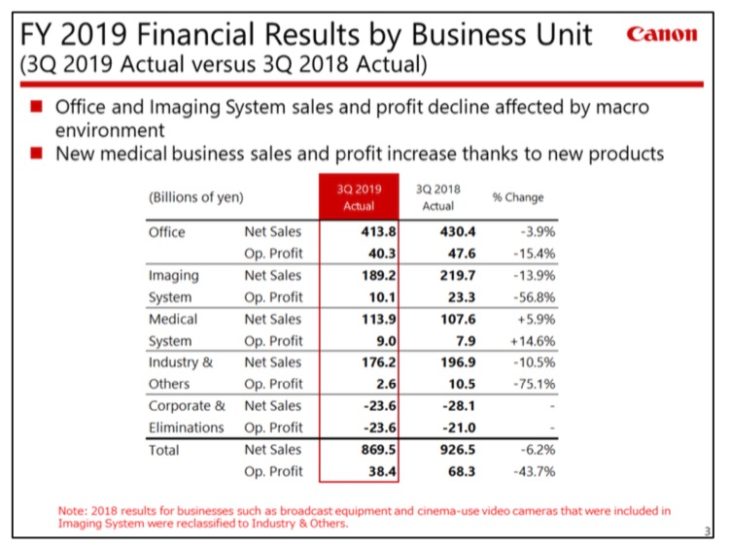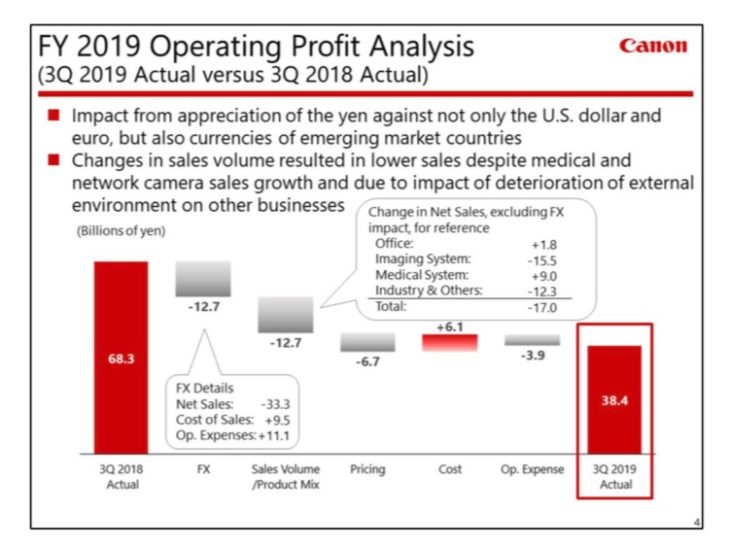 How are Canon's imaging systems doing?
In the third quarter, our sales of interchangeable-lens cameras decreased 7% to 980 thousand units due to the impact of market contraction, mainly for entry-level DSLRs.

Amid market contraction, price competition surrounding higher-end full-frame models intensified due to the energy that each manufacturer is putting into this segment. In this kind of environment, and due to our stance to prioritize profitability, we posted third-quarter unit sales of higher-end models that were below our plan. However, we did expand sales, mainly for a popularly priced mirrorless camera that has secured the number one market share position, both in and outside of Japan. Furthermore, thanks to positive feedback we have also received for new mid-range cameras, we decided to maintain our full-year unit sales projection.

As for the full-frame mirrorless camera that we introduced last year, up to and including the third quarter, we have broadened our lineup of dedicated lenses by four in 2019. As a result, we have seen a steady rise in our lens-attach ratio. In the fourth quarter, through the launch of two new lenses, we will solidify the base from which we will expand sales of higher-end mirrorless cameras and use this opportunity to further strengthen activities aimed at accelerating sales.

Specifically, we will actively expand kit sales, which include higher-end cameras with the new lenses that were launched. Among them, we are seeing strong orders, particularly in North America, for the kit that includes a high-magnification zoom lens which covers a wide-range of image capturing situations from wide-angle to telephoto. On top of this, we are raising the appeal of our products, continuously making improvements to software which has a significant impact on performance, such as making available firmware upgrades that further improves the accuracy of autofocus. On top of these measures, we will work to encourage potential customers to purchase our products with a focus on digital marketing, through such activities as partnering with professional photographers using social media, and distributing videos that highlight the strengths of our optical technology.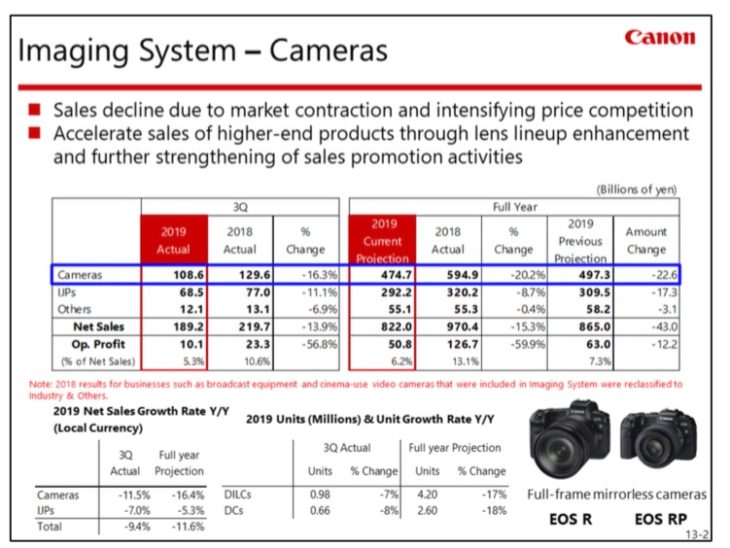 For the professional market, we are steadily enhancing our support system for sporting events, both in Japan and in other markets. And on this front, we are already earning high praise from professional photographers. Additionally, we will respond to the needs of professionals by launching a new flagship model as part of our EOS-1 series at the beginning of next year.

As for the full-year, although we kept our projection for unit sales unchanged, we expect sales and profit to be below our previous outlook due to changes in product mix and additional investments to expand sales in the fourth quarter.

As for compact cameras, we kept our previous full-year unit sales projection as our results have been in line with expectations. Even in the shrinking market, we exceeded the third quarter unit sales of last year of premium G series models that offer advanced video features, bringing new young people into our ecosystem. We will continue efforts to expand sales of our G series, which has relatively higher margins, and link this to improved profitability.
Canon's latest financial results are available here.