Until September 22, 2023, you can save $40 on the new Topaz Photo AI 2.
👉👉👉 Get Topaz Photo AI at $159 (reg. $199). Offer expires 9/22/2023 👈👈👈
Press release:
Topaz Photo AI 2 introduces generative AI features designed for professional-grade photo editing
Topaz Photo AI 2 has launched with all-new AI powered features, including a single-slider lighting adjustment filter, a color balance filter, and other best-in-class image enhancement features powered by generative AI.
Dallas, TX – Topaz Labs today announced the availability of Topaz Photo AI 2, the second major version of its flagship desktop app for image quality enhancement. With this upgrade, Topaz Photo AI uses generative AI to deliver on its promise of best-in-the-world image quality for professional and prosumer photographers.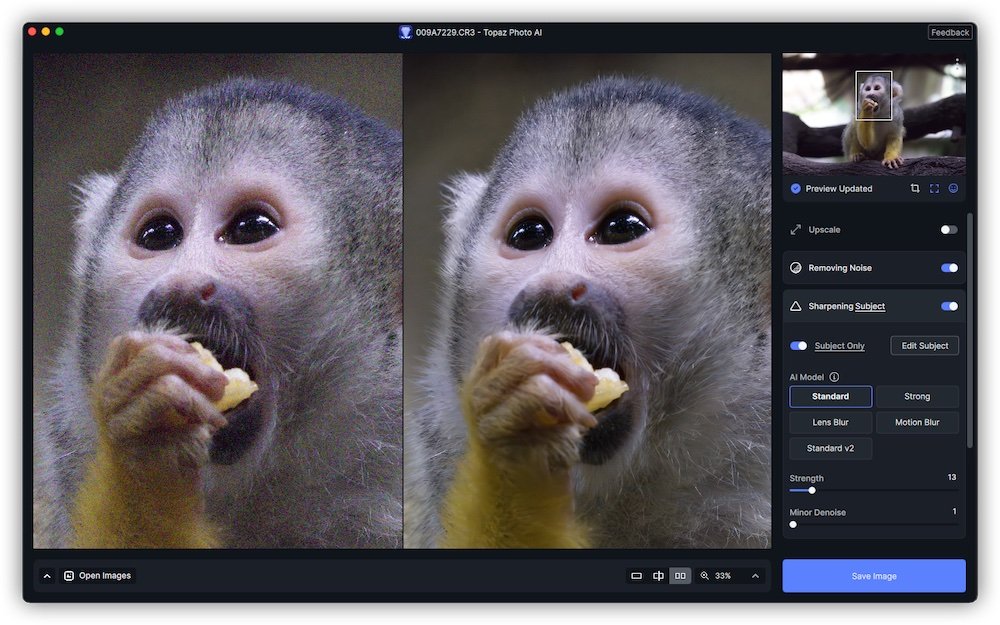 With the new advancements in v2, photo editors can now:
Adjust Lighting improves lighting and addresses over/underexposure in a visually pleasing way. It can deal simultaneously with extreme highlights or shadows in the same image.
Balance Color attempts to remove color casts, then allows editors to adjust relative temperature based on the neutral baseline.
Maximize image quality on raw files with a heavily improved AI-based Raw Remove Noise engine that greatly outperforms alternatives in blind quality tests.
The new release also features improved blur reduction AI models and the ability to access Gigapixel generative upscaling directly from the Automate menu in Photoshop.
With Photo AI 2, Topaz Labs continues to bridge the gap between cutting-edge technology and magical results for photographers serious about image quality.
"Topaz Photo AI v2 shows the huge potential of generative AI to make editing real photos better," said Eric Yang, CEO of Topaz Labs. "Photographers can focus entirely on achieving their artistic vision and let technology worry about the technical details."
Topaz Photo AI 2 is a desktop software for Mac and Windows with integrations available for major image editors. It's available on the Topaz Labs website for the introductory price of $159 for new users and $79 for existing users without an active upgrade license.