Tamron 90mm f/2.8 SP Di MACRO 1:1 VC USD Review (The Phoblographer)
The Phoblographer reviewed the Tamron 90mm f/2.8 SP Di MACRO 1:1 VC US lens (price & specs). A Canon EOS 5D Mark II (price & specs) was used for the test. With a price tag of $799 this lens is rather affordable. The review comes with lots of sample images, it's definitely worth to be read if you are looking forward to get this lens.
Pros
Extremely sharp image quality
Beautiful bokeh
Simple design
Fairly compact for a long lens
Extremely light
Included lens hood just makes the images look so much nicer
Fast focusing except when going down to the macro levels
Very affordable
Cons
Our version needed a bit of micro-adjustment
We wish there was weather sealing incorporated into the lens
Conclusion:
Macro lenses are very fun to use. Not only do they give you some outstanding close focusing abilities, but they're also usually characterized as being extremely good as portrait lenses. In our time with the lens, we couldn't find a single reason to not purchase this lens if you're in the market for a telephoto macro optic. One potential flaw may be that one may want an f2 lens instead of f2.8, but keep in mind that you'll get the best results with this lens (and mostly any lens) if you incorporate the use of flash to emphasize the specular highlights that really make this lens shine.

Indeed, it was a pleasure to use this lens. It breathed lots of life into my Canon 5D Mk II and I'm going to miss the lens. However, I personally don't shoot enough macro images to justify this purchase. And as far as portrait lenses go, I'm very happy with Sigma's 85mm f1.4 EX–which is in some ways a competitor to a lens like Tamron's latest addition.

But in the end, this lens renders color so well, we're pleased to say that it is right up there with Zeiss and Rokinon. Though the three companies render color totally differently, the colors from this lens will appeal to many pros interested in a lens like this.
Tamron 90mm f/2.8 SP Di MACRO 1:1 VC US price check: Amazon, B&H Photo, Digitalrev, eBay, Adorama, Canon USA
90mm Macro Prime Lens
Aperture Range: f/2.8-32
1:1 Maximum Reproduction Ratio
Vibration Compensation
Internal Focus System
Ultrasonic Silent Motor Drive
eBAND Hybrid Lens Coating
Extra-low Dispersion Optical Elements
Moisture-Resistant Construction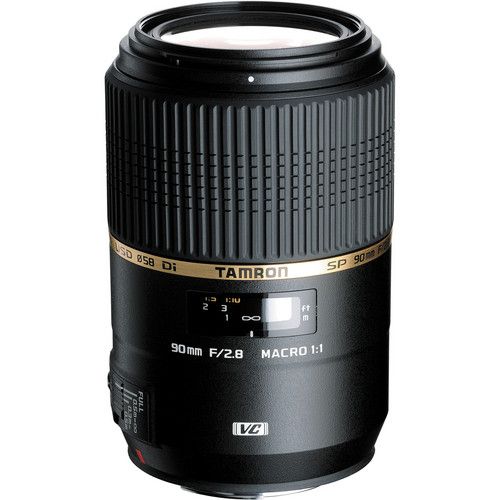 [via The Phoblographer]