Tamron SP 24-70mm f/2.8 DI VC USD Lens Review (dpreview)
[shoplink 12435]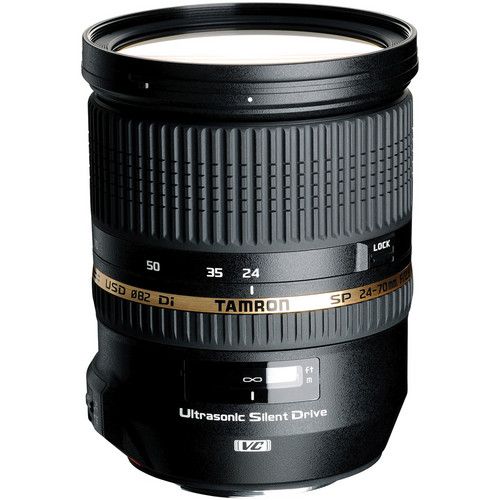 [/shoplink]
Tamron SP 24-70mm f/2.8 DI VC USD Lens
Amazon USA, Amazon CA, B&H Photo, Adorama, Digitalrev, KEH Camera, eBay US, Canon USA, Canon CA, BestBuy
This is definitely an interesting lens that offers value for the money. The image stabilized Tamron SP 24-70mm f/2.8 DI VC USD lens [shoplink 12435](price & specs)[/shoplink], with a price tag of $1,299, got a very good review by dpreview. They write:
Overall, we're extremely impressed with the Tamron 24-70mm F/2.8 VC. It demonstrates that it's entirely possible to add an effective image stabilization system to a lens of this type without a significant drop in quality elsewhere. The optics are excellent, the autofocus fast, silent and accurate, and the build quality very good indeed.

Overall the Tamron comes so close to the much more expensive non-stabilized Canon and Nikon lenses, both optically and operationally, that it's difficult to see why most enthusiast photographers might choose to buy them instead.
Be sure to check out the samples gallery.
Tamron SP 24-70mm f/2.8 DI VC USD price check: 
Asia & Australia: AliExpress, Amazon JAPAN, Amazon CHINA, Amazon INDIA, Amazon AU, Amazon USA, Digitalrev, Adorama, B&H Photo, eBay Australia, Rakuten JP
Europe & UK: Amazon DE, Amazon UK, Amazon FR, Amazon IT, DigitalRev, eBay DE, Wex Photo Video, Park Cameras, Canon DE, Canon UK, Canon IT, Canon FR
USA/Canada: Amazon USA, Amazon CA, B&H Photo, Adorama, Digitalrev, KEH Camera, eBay US, Canon USA, Canon CA, BestBuy