Tamron SP 45mm f/1.8 Deal – $399 (reg. $599, limited time)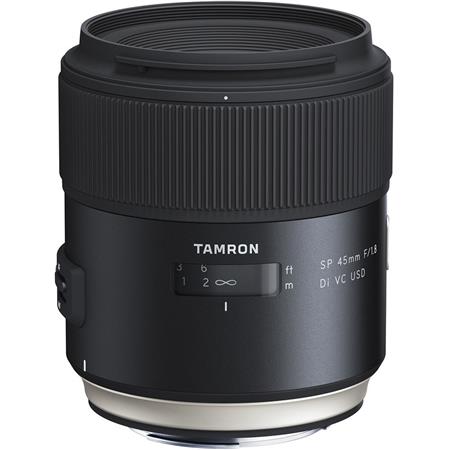 Adorama has an excellent Tamron SP 45mm f/1.8 deal.
Get the Tamron SP 45mm f/1.8 Di VC USD lens for Canon EF mount at $399. Compare at $599. Free shipping and limited time offer.
Tamron SP 45mm f/1.8 deal key features and description:
EBAND Coating deployed to thoroughly suppress ghosting and flare
Fluorine coating on the front element repels water and fingerprints
Circular aperture for enhanced bokeh
Lens Mount: Canon EOS
Zoom Focal Length: All Primes Lens
Fixed Focal Length: 45mm Lens
Lens Format: Full Frame
Maximum Aperture: f/1.8
Lens Type: Wide Angle SLR Lens
Image Stabilization Type: Yes (VC)
Series: Tamron Di Series
Special Features: Aspherical
New series of SP lens that is optimized to make the most of the superior imaging performance delivered by the latest advancements in digital photography. Sporting a totally revamped external appearance, the Tamron SP 45mm F/1.8 Di VC USD Lens provides the ultimate in functionality and operation. The lens is compatible with full-frame DSLR cameras and offer fast apertures and versatile, fixed focal lengths. and it can be used with APS-C format cameras as well
Features of the Tamron SP 45mm F/1.8 Di VC USD Lens

1. F/1.8 fast-aperture, fixed focal lens aimed at ultimate performance
Optimal use of the latest glass materials, coupled with Tamron's world renowned optical design technology, thoroughly compensated for aberrations of all types to achieve higher resolving power, while fine textures of materials and details are reproduced with subtle tonal gradations. The F/1.8 aperture delivers more light to the viewfinder making it brighter for easier focusing – and more light to the sensor, allowing use even in very dim lighting conditions. In addition, the bokeh (background blur) effect obtained using the F/1.8 fast aperture delivers impressively smooth and soft transition from the main subject to the background.
2. Dynamic close-focusing capability, unprecedented among standard lenses
Tamron SP 45mm F/1.8 Di VC USD Lens delivers astonishingly short MOD (Minimum Object Distance) not available from other 45mm standard lenses. Photographers can get closer to the subject with ease, unleashing new photo opportunities with an expanded scope of freedom. Superb image capture is ensured throughout the entire range from the closest to normal shooting distances, thanks to Tamron's proprietary Floating System built into both lenses.
3. VC (Vibration Compensation) System, a feature crucial for high-pixel-density cameras
Beneficial under all lighting conditions and especially useful in low light levels, the VC function provides noticeable advantages for handheld shooting by minimizing the adverse effects of camera shake. Cameras with high pixel densities, in particular, are sensitive to minute vibrations which cause unsharpness and degradation of image quality. VC works to ensure the maximum imaging performance even in dim lighting to allow photographers to enjoy the fast F/1.8 maximum aperture to the fullest extent.
4. User-friendly product design with close attention to all details
Opening a new chapter in the SP legend, product design, opto-mechanical construction and engineering processes are totally integrated. Every single detail and operating function has been thoroughly reexamined, explored and matured to a form that has a friendly, human touch.
Product design with maximum emphasis on the human interface in order to achieve the ultimate in functional beauty
While the lens is constructed with the absolutely most modern technologies inside, the exterior is articulated to offer the best possible comfort and confidence under a product design philosophy of "Human Touch." Organically composed lines and patterns on the barrel produce subtle changes in its appearance by reflecting ambient light on the surface. Metal-based barrel materials provide a pleasant feeling of comfort, high quality and durability, fitting firmly in the hands of the photographer. Design of the front face of the lens is also taken into consideration so that it is not intimidating.
(2) Brand ring and SP emblem
A brand ring that's tinted "Luminous Gold" adorns the lens just above the lens mount. On one side of the lens barrel there is an SP emblem in the same luxurious color.
(3) Design of distance and aperture scales
The window over the distance scale has been enlarged by 20% to maximize visibility and legibility. Font style of the characters and numbers has been newly developed to enhance the legibility as a critical element of the overall product design.
(4) Switches with optimized geometric shape and tactile feedback
The geometric shape and sliding torque of the AF/MF change-over and VC On/Off switches have been configured and engineered to deliver the utmost comfort with secured operational feedback.
(5) Lens hood and caps
To complete the lens product design, accessories such as the lens hood and caps for front and rear have been totally redesigned as well. Attaching and removing the lens hood has been fine-tuned by optimizing the connection interface to render both secure seating and durability.Compatible with Canon EOS DSLR cameras.