Yet Another Canon EF 40mm f/2.8 STM Review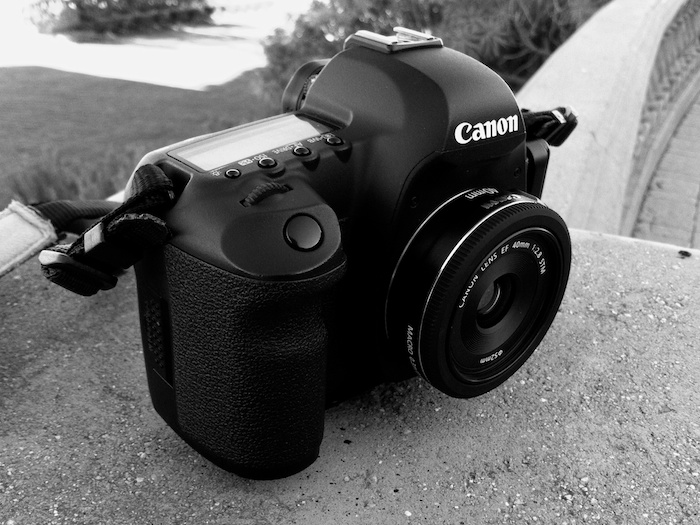 The Phoblographer posted their Canon EF 40mm f/2.8 STM review. Another very positive review of Canon's cheap and sharp pancake lens. The reviewer was
[…] was extremely surprised with the Canon EF 40mm f/2.8 STM lens, the image quality delivered was beyond what I expected from a lens at this price point. I do wish the manual focus feel was a bit more responsive, and the AF speed just a touch faster, but I can certainly live with it as-is and have no issues. For $150 (as of Nov' 2012) I feel like this should be a no-brainer purchase if you want the smallest lens that Canon currently produces.
Pros and cons:
Tiny physical size
Accurate AF
MFD under 12″
Very, very good image quality
Better AF during live-view (on STM friendly cameras like the T4i)
Highly Flare Resistant
Inexpensive!

Minuses:
Electronic AF  motor means camera has to be powered on to retract lens
Slight lag when manually focusing
Not quite as fast as Canon's USM lenses
Manual focusing ring is tiny (though this is unavoidable given the size of the lens)
Sample pics are provided. Check it out!
Product specs:
Continuous Autofocus for Video With T4i
Bright f/2.8 Aperture
Lightweight 4.6 oz Lens
Unobtrusive–Less Than 1″ Long
Aspherical Element–High Image Quality
Optimized Coatings Reduce Ghost & Flare
Exceptional Color Balance
7-Blade Diaphragm for Beautiful Bokeh
Close Focusing to 11.81″
64mm Equivalent If Used on APS-C Camera
Canon EF 40mm f/2.8 STM price check: Amazon USA, Amazon CA, B&H Photo, Adorama, Digitalrev, KEH Camera, eBay US, Canon USA, Canon CA, BestBuy