B&H Photo Introduces PayBoo Credit Card and Pays Sales Taxes For You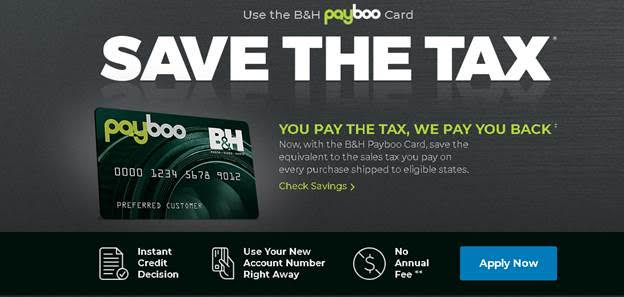 This is for US citizens only.
B&H Photo announced the PayBoo credit card. If you buy gear using the PayBoo credit card, B&H Photo will credit you back the sales taxes. This is something is you consider that sales taxes in the US can be rather high.
More information and sign up for PayBoo are here, an excerpt from the FAQ is below.
What are the B&H Payboo Credit Card benefits?

B&H issues instant Payboo Card Savings on all non-tax-exempt purchases shipped to eligible states paid for with the Payboo Card in the form of a reward concurrently issued and redeemed directly on your order during checkout.

How does the Payboo Card benefit really work?

When you pay for B&H purchases with the Payboo Credit Card, B&H will charge the total of merchandise plus applicable fees and taxes; but we instantly issue and apply a reward on orders made in our SuperStore or shipped to eligible states right in checkout as a form of customer payment. Then, the amount charged to the Payboo Card is net of the benefit applied.

Am I paying sales tax on my purchase? Do I need to submit anything in my tax filings?

B&H will collect and remit state sales tax in accordance with state sales tax laws and regulations. So, customers do pay required sales tax and do not need to keep track or file anything separately.
To sign up for the PayBoo credit card, read the FAQ, and gather more information click here.