Canon C300 Mark II White Paper published (insights in Canon's Super 35mm sensor technology)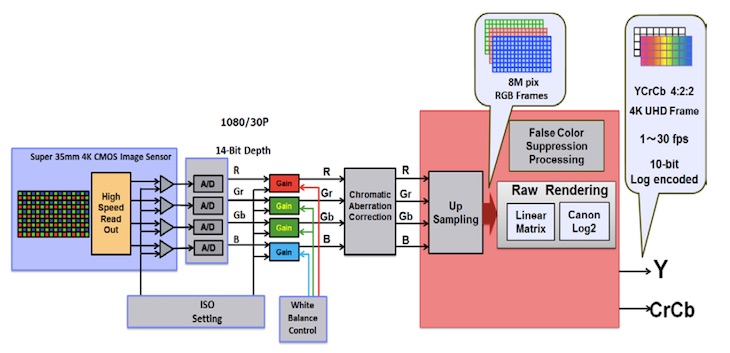 Canon published a technical white paper about the Canon C300 Mark II. The paper gives interesting insights on the employed sensor technology.
Quoting the paper's abstract:
The original EOS C300 digital cine camcorder employed an innovative new 4K UHD Super 35mm CMOS image sensor developed by Canon. The readout system dissected that 4K sampling into four parallel HD components. The summation of the two green components reduced aliasing that, in turn, supported a higher Luma MTF. The new C300 Mark II preserves these basic strategies but within a totally new 4K CMOS image sensor design. The new camera is intended to significantly extend the overall image performance of HD beyond that of the C300 while further supporting the alternative 2K cinema format. A 15-stop dynamic range is provided by a new photodiode design that simultaneously lowers the noise floor while elevating the saturation level – offering excellent HDR functionality. The separate video components are processed in a quite different manner than those of the original C300 – utilizing a novel sample rate conversion system to further reduce aliasing and provide a more benign appearance to noise within the formulated 2K / HD RGB 444 components. Picture capture rates have been extended to a maximum of 120 fps progressive. The camera can manage a far greater range of scene Illuminance levels by deployment of a choice of 5 separate ND settings and a greater range of ISO sensitivity settings. Finally, unlike the C300, the new C300 Mark II also originates a choice of high performance UHD or 4K cine video – constrained, however, to a maximum picture capture rate of 30 fps progressive. This white paper will outline the advances made in image origination and processing in the C300 Mark II and their contribution to the enhancement of overall image performance.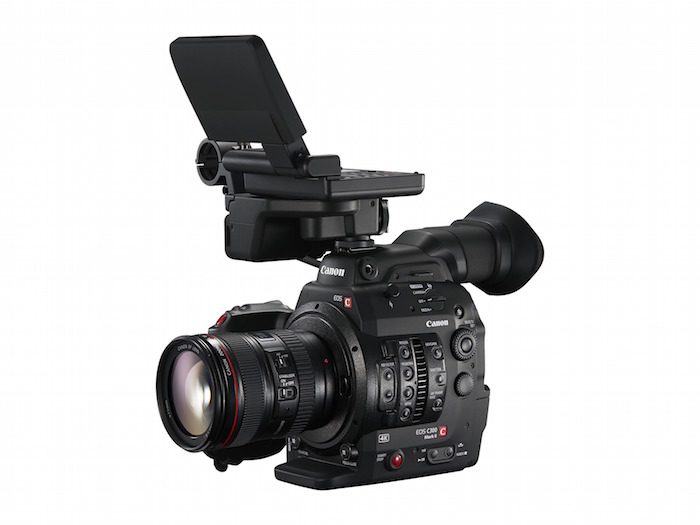 Canon C300 Mark II (B&H Photo | Adorama) specs at a glance:
New Canon 8.85 Megapixel CMOS Sensor
Dual Canon DIGIC DV5 Image Processors
Canon XF-AVC H.264 Codec
Internal 4K/2K/Full HD Recording
Twin 3G-SDI Outputs for up to 30p 4K
Full Manual Control
1.77 Megapixel Color OLED EVF With Adjustable 60o Tilt Angle
Uses All Canon CN-E Cinema Prime and Zoom Lenses
Uses All Canon EF and EF-S Photo Lenses (Including Specialty Tilt-Shift and Other Models)
Built-In Mono Microphone
Removable LCD Monitor and Control Panel with XLR Inputs
Removable Hand Grip
Improved Low-Angle Camera Handle Extension
Built-in Dual-Band Wi-Fi for Remote LiveView Display and Camera Control
[via
Image Sensors World
]