Canon Developing Faster And More Accurate Auto-Focus For Continuous Shooting (Patent)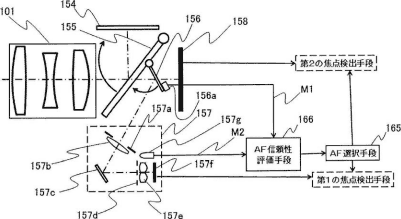 Egami (translated) spotted a patent filed by Canon regarding a faster and more accurate AF method for continuous shooting. If I understood the patent correctly, the method is using the "classic" AF method (using the dedicated phase difference sensor) for the first shot, and phase difference AF on the "image plane" (i.e. the image sensor) for all subsequent shots. The advantage: you do not need to move the mirror for focusing after the first shot, hence allowing for a higher frames per seconds rate.
Could this patent point to the EOS 7D replacement we expect to be announced in September? Possibly. A higher fps is one of the features most of us think will be implemented in the camera Canon is going to announce.
Patent Publication No. 2014-142372

Published Date 2014.8.7
Filing date 2012.1.22

Canon patents

I use the phase difference AF the first time
I use the image plane phase difference AF with the second and subsequent

There is no need to wait for the stable state up mirror, the mirror down