Canon EF 11-24mm f/4L DxOMarked (the lens is a champ)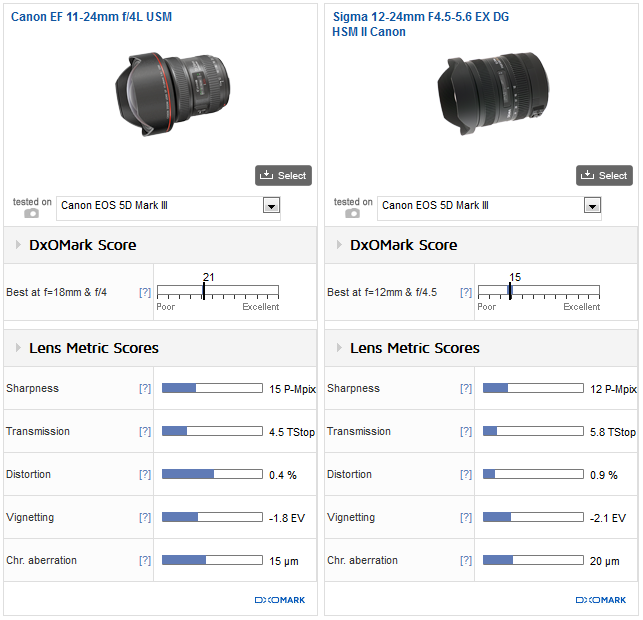 DxOMark tested the Canon EF 11-24mm f/4L, the company's latest ultra-wide angle lens, and a lens that only gets highest regards. Not a budget lens, the EF 11-24mm f/4L sells at $3,000.
In the conclusion:
While traditionally strong in its telephoto lineup, Canon has always been rather weak in offering a range of ultra-wide-angle lenses. When introduced a few years ago, the EF 8-15mm f4L USM Fisheye zoom helped redress the balance, but it didn't go far enough. Now with this new lens, Canon has proved it can compete with its long-term rival Nikon as well as with new challengers, such as Sigma, who offer some very specialized models at accessible prices. Sure, the EF 11-24mm f4L USM lacks the fast f2.8 aperture of the Nikon, but Canon traded that for wider coverage and didn't make any concessions with image quality. Even the price is relatively accessible. Read the test report at DxOMark.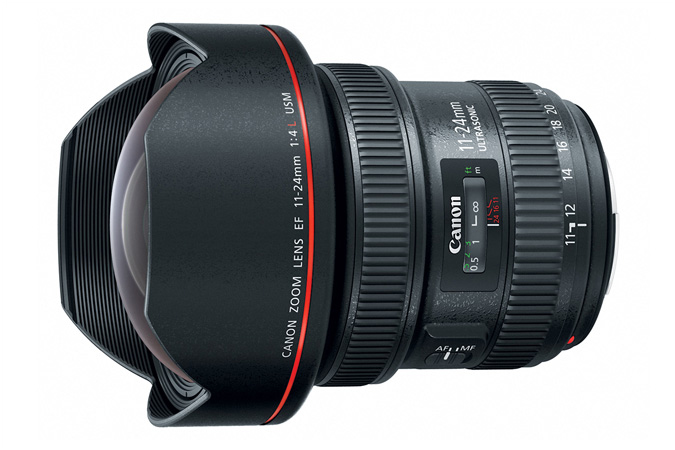 EF Mount L-Series Lens/Full-Frame Format
Constant f/4 Maximum Aperture
Super UD, UD, and 4 Aspherical Elements
SWC, Air Sphere, and Fluorine Coatings
Ring-Type USM Autofocus Motor
Internal Focus; Full-Time Manual Focus
Weather-Resistant Design
Rounded 9-Blade Diaphragm
Canon EF 11-24mm f/4L price check for your country: B&H Photo, Adorama, Amazon USA, Amazon Canada, Canon Canada, Canon USA. An overview can be read after the break.
A truly versatile wide-angle zoom featuring an advanced optical design and constant f/4 maximum aperture, the Canon EF 11-24mm f/4L USM Lens is a member of the esteemed L-series of lenses designed for full-frame EOS DSLRs. One Super UD element and one UD element offer a significant reduction in chromatic aberrations while four aspherical elements help to minimize distortions throughout the zoom range and provide consistent edge-to-edge sharpness and illumination. Both SWC and ASC coatings have been applied to the elements in order to reduce lens flare and ghosting for increased contrast and color accuracy. Ideally suited for landscape and architectural photography, this lens covers ultra-wide to wide-angle perspectives and backs up its versatile zoom range with sophisticated optical components and intuitive handling.
In regard to focusing performance, a ring-type Ultrasonic Motor offers fast, smooth, and near-silent autofocus, which is further benefitted by full-time manual focus operation and an internal focusing design. The lens is both water and dust-resistant, and fluorine coatings have also been applied to the front and rear elements to protect against fingerprints and smudges from affecting image quality.
Wide-angle zoom 11-24mm f/4 lens is compatible with full-frame EOS DSLRs, as well as APS-C-sized sensors where it will provide a 17.6-38.4mm equivalent focal length range.
Constant f/4 maximum aperture offers consistent performance and light transmission throughout the zoom range.
One Super UD (Ultra Low Dispersion) and one UD element help to significantly reduce chromatic aberrations for improved clarity and color accuracy.
Four aspherical elements help to minimize distortions throughout the zoom range in order to maintain edge-to-edge sharpness and illumination.
Both a Subwavelength Coating (SWC) and an Air Sphere Coating (ASC) have been applied to lens elements to reduce backlit flaring and ghosting for maintained light transmission and high contrast in strong lighting conditions.
A ring-type Ultrasonic Motor (USM), along with an internal focusing system, high-speed CPU, and optimized AF algorithms, are employed to deliver fast, precise, and near-silent autofocus performance.
Full-time manual focus operation is available for fine-tuning of your focus position when working in the AF mode.
A weather-resistant design protects the lens from dust and moisture to enable its use in inclement conditions. Additionally, fluorine coatings have also been applied to the front and rear lens elements for further protection against fingerprints and smudging.
Nine rounded diaphragm blades contribute to a pleasing out of focus quality that benefits the use of shallow depth of field and selective focus techniques.
Lens' design accepts rear insert-type gelatin filters, which are cut-to-size and inserted behind the rear lens element.