Canon EF-M 28mm f/3.5 Macro IS STM Review (wonderful image quality)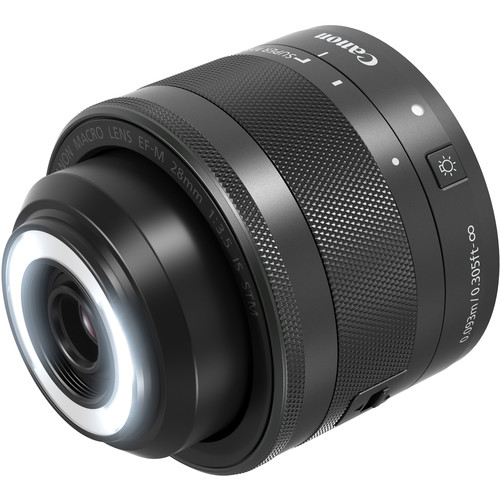 Canon EF-M 28mm f/3.5 Macro IS STM B&H Photo, Adorama, Amazon USA, Amazon Canada, Canon Canada, Canon USA
Photographer and reviewer Dustin Abbott published his exhaustive review of the Canon EF-M 28mm f/3.5 Macro IS STM, Canon's latest addition to the EOS M lens ecosystem. And according to the reviewer, this tiny lens has a "wonderful image quality".
From the conclusion:
[…] the nearly perfect "normal" angle of view provided by this lens makes it a very versatile lens than what a lens with a longer focal length would have. I found it a very versatile travel option that really delivered a lot of stunningly good images in a tiny package. I would have liked a wider aperture, but realize that having one would have compromised the compact nature of the lens…which is a delight. That being said, my one optical complaint is that I feel trying to create a shallow depth of field for non-macro shots is limited with the 28mm Macro. The inclusion of the "Macro Lites" and Super Macro mode are better than gimmicks and I think will prove genuinely useful when used in the right way. I do wish the engineers had put in a stronger detent at the normal shooting spot so that I don't always end up in Super Macro mode! The IS system works well, the lens focuses reasonably quickly, and has no real optical flaws. All in all, this is an excellent package at a reasonable price […]
You can watch Dustin's 15 minutes video-review below, or go for the written review.
Canon EF-M 28mm f/3.5 Macro IS STM B&H Photo, Adorama, Amazon USA, Amazon Canada, Canon Canada, Canon USA