Canon EF-S 18-135mm f/3.5-5.6 IS STM Lens Review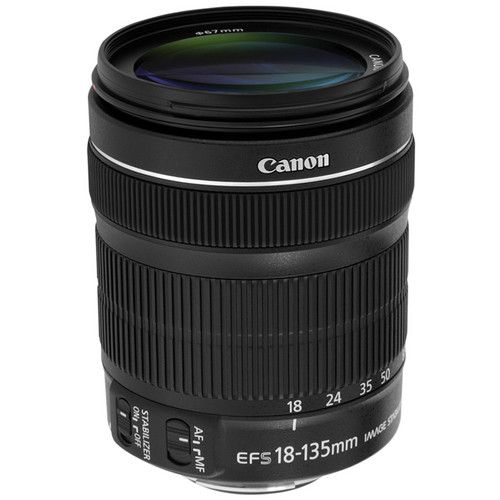 The Canon EF-S 18-135mm f/3.5-5.6 IS STM lens is one of the two lenses (the other is the EF 40mm f/2.8 STM, and then there are two STM lenses for the EOS M) that have been designed to work smoothly with the Movie AF Servo mode that's featured on the Rebel T4i/EOS 650D. In Movie AF Servo mode the camera can focus continuously while it is recording video. Moreover, the STM (Stepping Motor) AF should allow for a silent focusing (so you don't record disturbing noise while in video mode).
The Canon EF-S 18-135mm f/3.5-5.6 IS STM lens sports a newly developed image stabilization system of which Canon claims it gives you 4 stops. The Canon is a good walk-around and everyday lens. It covers photographic settings from landscape (wide angle) to portrait photography. The lens will also sense if you are shooting normally or panning, and will activate the most appropriate IS mode to capture the best possible image. When shooting movies, Dynamic IS automatically engages, countering any shake caused by movement. On a crop sensor (1.6x magnification) the lens has a range of 29-216mm. The usual price tag of the Canon EF-S 18-135mm f/3.5-5.6 IS STM is $549, and it has the following specs:
18-135mm Wide-Angle Zoom Lens
Aperture Range: f/3.5-36
Optical Image Stabilization
Stepping Motor and Inner Focusing System
Supports Movie Servo AF Feature
Smooth and Quiet AF Ideal for Video
EF-S Mount for APS-C Format EOS Cameras
Compact Design
Steve's Digicams took the lens and tested it. They used a Canon EOS 60D for the tests. In the conclusion they write:
Canon's new 18-135mm IS STM lens is a high quality, versatile and affordable (~$550 USD) standard zoom lens. This lens can easily be used as an all-in-one lens, as it is all you need for most standard shooting situations. It is also one of just two of the STM lenses currently available (Oct. 2012), which is a must for anyone that uses their Canon dSLR regularly for shooting video. The new functions of the lens will automatically increase your video quality. As it is equipped with the new T4i kit, we recommend that you buy the kit for this lens, whether you are getting your first dSLR or upgrading from a previous Rebel. You will find yourself using this lens for all of your day to day shooting.
A more exhaustive description of the Canon EF-S 18-135mm f/3.5-5.6 IS STM lens follows after the break.
Canon EF-S 18-135mm f/3.5-5.6 IS STM Lens price check: Amazon USA, B&H Photo, Digitalrev, eBay, Adorama, Canon USA Canon Rebel T4i/EOS 650D price check: Amazon USA, B&H Photo, Digitalrev, eBay, Adorama, Canon USA Canon EOS 60D price check: Amazon USA, B&H Photo, Digitalrev, eBay, Adorama, Canon USA
The 18-135mm f/3.5-5.6 EF-S IS STM Lens from Canon is a wide angle zoom lens with an 18-135mm focal range that is equivalent to 29-216mm in the 35mm format. This wide set of focal lengths offers flexibility in shooting everything from expansive landscapes and cramped interiors to group shots, portraits and distant subjects. Optical Image Stabilization reduces the blurred effect of camera shake up to 4 stops and the new Dynamic Image Stabilization improves the look of video while tracking moving subjects or walking with your camera.
This EF-S lens is designed to match the APS-C sensor size and its STM designation (Stepping Motor) gives it a smooth and quiet autofocus that is ideal for shooting video with the Movie Servo AF feature found on select Canon DSLRs. Autofocus speed is achieved thanks to the lens' high speed CPU connection with the camera and its Inner Focusing System. Auto and manual focusing is possible, aspheric and UD lens elements provide quality imaging and a zoom lock ring prevents the lens from accidentally extending. Given its wide focal range, it is particularly compact and lightweight, which is also beneficial when shooting video.
Note! The STM feature of this lens presently works only with the Canon EOS Rebel T4i Digital Camera.
Wide Focal Range

With 74.2° to 11.3° angle-of-view, the Canon EF-S 18-135mm f/3.5-5.6 IS STM Lens offers excellent wide angle to telephoto focal lengths with Canon APS-C EOS Digital SLRs. In 35mm format its focal range is equivalent to 29-216mm.
Image Stabilization

Canon's Optical Image Stabilization system reduces the effects of camera movement and allows you to shoot sharp images with a 4-stop advantage in low-light conditions.
Compact Design

Measuring less than 4″ in length and weighing about a pound, the lens boasts excellent portability without compromising optical quality.
High Speed Autofocus

An Inner Focusing system, optimized AF algorithm and high-speed CPU connections provide this lens with fast and accurate autofocus.
Ideal for Video

The stepping motor (STM) and focus mechanism and a new six-group zoom system offer quiet and smooth autofocus when used with the Movie Servo AF feature on select Canon DSLRs. This is ideal when shooting video so noise and jerky movements do not disrupt your action. The Dynamic Image Stabilization feature in Movie Shooting Mode reduces the effect of camera movement when shooting video while moving.