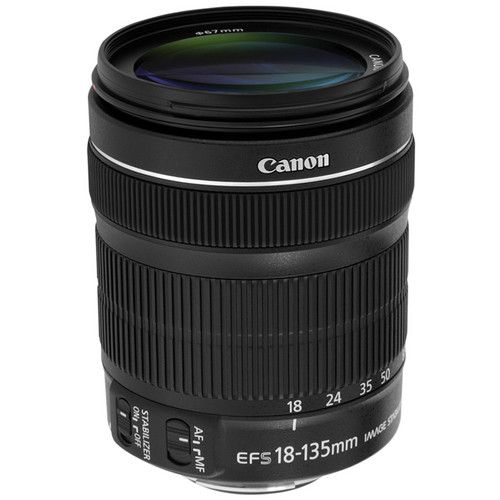 The Canon EF-S 18-135mm f/3.5-5.6 IS STM lens is one of the two lenses (the other is the EF 40mm f/2.8 STM, and then there are two STM lenses for the EOS M) that have been designed to work smoothly with the Movie AF Servo mode that's featured on the Rebel T4i/EOS 650D. In Movie AF Servo mode the camera can focus continuously while it is recording video. Moreover, the STM (Stepping Motor) AF should allow for a silent focusing (so you don't record disturbing noise while in video mode).
The Canon EF-S 18-135mm f/3.5-5.6 IS STM lens sports a newly developed image stabilization system of which Canon claims it gives you 4 stops. The Canon is a good walk-around and everyday lens. It covers photographic settings from landscape (wide angle) to portrait photography. The lens will also sense if you are shooting normally or panning, and will activate the most appropriate IS mode to capture the best possible image. When shooting movies, Dynamic IS automatically engages, countering any shake caused by movement. On a crop sensor (1.6x magnification) the lens has a range of 29-216mm. The usual price tag of the Canon EF-S 18-135mm f/3.5-5.6 IS STM is $549, and it has the following specs:
18-135mm Wide-Angle Zoom Lens
Aperture Range: f/3.5-36
Optical Image Stabilization
Stepping Motor and Inner Focusing System
Supports Movie Servo AF Feature
Smooth and Quiet AF Ideal for Video
EF-S Mount for APS-C Format EOS Cameras
Compact Design
Steve's Digicams took the lens and tested it. They used a Canon EOS 60D for the tests. In the conclusion they write:
Canon's new 18-135mm IS STM lens is a high quality, versatile and affordable (~$550 USD) standard zoom lens. This lens can easily be used as an all-in-one lens, as it is all you need for most standard shooting situations. It is also one of just two of the STM lenses currently available (Oct. 2012), which is a must for anyone that uses their Canon dSLR regularly for shooting video. The new functions of the lens will automatically increase your video quality. As it is equipped with the new T4i kit, we recommend that you buy the kit for this lens, whether you are getting your first dSLR or upgrading from a previous Rebel. You will find yourself using this lens for all of your day to day shooting.
A more exhaustive description of the Canon EF-S 18-135mm f/3.5-5.6 IS STM lens follows after the break.
Canon EF-S 18-135mm f/3.5-5.6 IS STM Lens price check: B&H Photo, Adorama, Amazon USA, Amazon CA, KEH Camera, BestBuy, Canon CA, Canon USA Canon Rebel T4i/EOS 650D price check: B&H Photo, Adorama, Amazon USA, Amazon CA, KEH Camera, BestBuy, Canon CA, Canon USA Canon EOS 60D price check: B&H Photo, Adorama, Amazon USA, Amazon CA, KEH Camera, BestBuy, Canon CA, Canon USA