Canon EF-S 35mm f/2.8 Macro IS STM reviewed by Photography Blog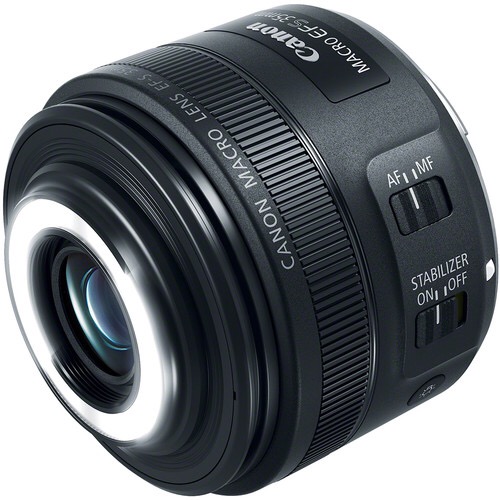 Canon EF-S 35mm f/2.8 Macro IS STM at a glance:
Standard macro prime designed for APS-C-format Canon DSLRs, this lens offers a 56mm equivalent focal length.
One glass-molded aspherical element is featured in the optical design to control spherical aberrations and deliver a high degree of sharpness and clarity.
Maximum 1:1 magnification and a minimum focusing distance of 5.1″ permits making life-size imagery of close-up subjects.
Built-in front-facing Macro Lite LED can be used to produce additional illumination to subjects when working at close distances. The light can be configured to illuminate only the right or left side, or both sides, and the brightness can be adjusted in order to produce greater visual depth and reduce shadows caused by the close proximity of the lens to the subject.
Hybrid IS image stabilization minimizes the appearance of camera shake for sharper imagery when shooting handheld.
Lead-screw-type STM stepping motor offers fast, quiet, smooth, and accurate autofocus performance that is ideal for video recording as well as still shooting.
Full-time manual focus mode (AF+MF) lets you instantly switch to manual focus control in AF mode for making fine-tuned adjustments.
Rounded seven-blade diaphragm and bright f/2.8 maximum aperture help to render smooth and pleasing bokeh to benefit shallow depth of field imagery.
One of the less talked about recent Canon lenses, the Canon EF-S 35mm f/2.8 Macro IS STM, got reviewed by Photography Blog. It's a relatively inexpensive lens, it sells for $349 at Amazon US, and it seems it delivers for the bucks.
From the conclusion:
With a 35mm focal length giving you an equivalent of 56mm, it doubles up as an every day or walk around lens, giving you extra flexibility. Those who have a keen interest in macro photography will of course be particularly drawn towards it though.

The addition of the inbuilt macro lights is great news for anybody who likes to shoot extremely closely, and certain subjects, such as jewellery really benefit from the direct source of light. Certainly, anybody who needs to regularly shoot product photography may find this lens to be particularly useful.

Image quality is excellent, producing very sharp images with a high level of detail, as you would expect from a macro lens. Out of focus areas are also rendered very nicely, with attractive bokeh which would make this lens ideal for creating shallow depth of field shots – portraits would also be a good subject to shoot with it.