Canon EOS 6D DSLR Reviews And Comparisons Round-Up (and videos)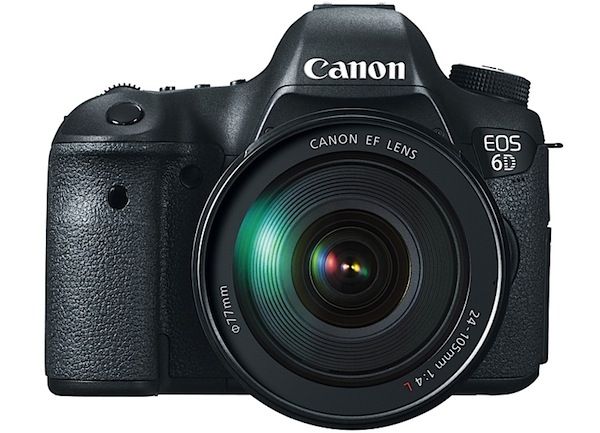 The upcoming Canon EOS 6D DSLR (click here for specs) is the company's first DSLR to have built-in WiFi and GPS. It is also the lightest (680g) full-frame DSLR in its category. It has a 20 MP sensor, an 11-point AF system, offers High Dynamic Range processing in the camera, the silent shutter mode of the [shoplink 7373 ebay]EOS 5D Mark III (on sale for $3,093.33, click here)[/shoplink], DIGIC 5+ image processor, ISO up to 102400, and more. And it is an "entry-level" full-frame DSLR. With a price tag of $2100 it's the cheapest full-frame DSLR you can buy new in 2012. Update: It turned out the the Nikon D600 is $3 cheaper (at least here) than the EOS 6D (thanks to reader EL for the information).
Canon EOS 6D DSLR specs:
20.2MP Full-Frame CMOS Sensor
3.0″ Clear View High Resolution LCD
DIGIC 5+ Image Processor
Built-In Wi-Fi and GPS Connectivity
Full HD 1080p with Manual Controls
11-Point AF with Center Cross-Type Point
63-Zone Dual Layer Metering Sensor
Extended ISO Range of 50-102400
Up to 4.5 Full Resolution FPS
Built-In HDR and Multiple Exposure Modes
The Canon EOS 6D DSLR can be preordered at the following shops:
Canon clearly had a precise category in mind when designing the Canon EOS 6D DSLR: photographers who need a professional tool with high image quality and want (or have) to share their pictures in a fast and easy way (e.g. bloggers, social sharing, photojournalists who need to upload pics). The WiFi and GPS (adds geographic and UTC time information to EXIF data) options of the Canon EOS 6D DSLR come handy for users who need connectivity to transfer pictures, either on the Internet or on another device, and are a welcome feature in a DSLR made by a company known for its conservative approach. The direct competitor, Nikon's D600 (click here for specs), doesn't have built-in WiFi and GPS. The Wi-Fi feature of the Canon EOS 6D DSLR can be used in combination with a smartphone (or tablet) that operates as a wireless remote control. Canon's EOS free remote app can take control of live view and exposure , and is available both for the iOS and Android platform. Another thing is worth to be mentioned: the Canon 5D Mark II saw a concrete price drop since the announcement of the Canon EOS 6D DSLR.
So, the question raises: how does the Canon EOS 6D DSLR compare to other full-frame DSLRs? While we are waiting for a production model of the Canon EOS 6D DSLR, comparisons can only be made on the basis of specifications and analysis. The most comprehensive comparison (thanks to the reader who posted the link in a comment) between the Canon EOS 6D DSLR and the Nikon D600 DSLR I saw so far comes from digitalreviewcanada. Their exhaustive comparison goes into every detail (and I mean every). About the Canon EOS 6D DSLR they say:
It is interesting to see that Canon has chosen to take a different approach and rather than delivering higher end features, speed and performance, has designed the full frame Canon EOS 6D to excel as a low light / high ISO performer, and to cater to bloggers and the active social networking type by incorporating practical features like built-in Wi-Fi transfer and GPS tagging functionality.
photographytalk previews the Canon EOS 6D DSLR, discusses its features, and compares the camera with other Canon DSLRs and Nikon's D600. About the EOS 6D they write:
Engineering a smaller and lighter full-frame DSLR to appeal to a wider market does limit the configuration of the points in the AF system. The 6D has 11 points and only the central point is cross-type. On the EOS 6D, they must be placed within a smaller area at the center of the frame. Nonetheless, the 6D will shoot in low-light conditions better than the 5D Mark III, -3EV compared to -2EV, respectively. This greater low-light capability compensates quite a bit for the AF points limitations. Another nice AF functionality is precise adjustment of the AF, as found in the 5D Mark III.
More about the Canon EOS 6D DSLR and the Nikon D600 in the following video (13min).

A lot of people is questioning which Canon full-frame DSLR to get. The next video tries to give an answer.
Jeff Lynch made a quick specifications-based comparison with the EOS 5D Mark III and EOS 5D Mark II. Useful if you want to have an overview on how these DSLRs compare.