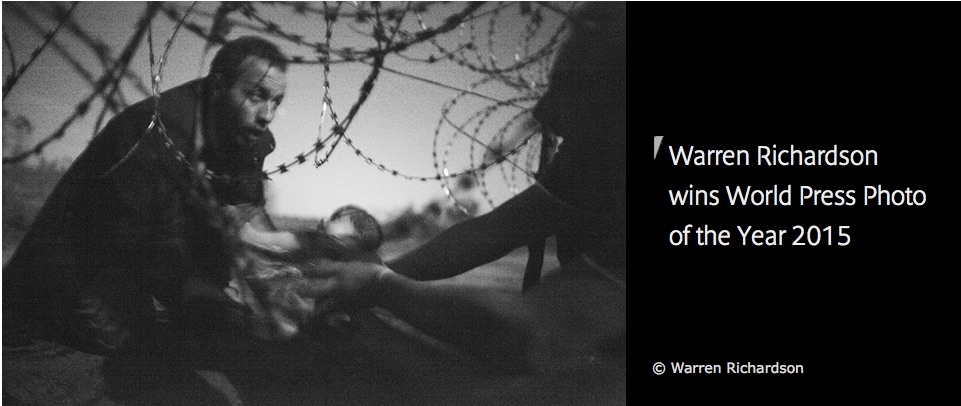 Warren Richardson won the World Press Photo of the Year 2015 (CPN article), using a EOS 5D Mark II!
The overall winning image – which also won first prize in the Spot News category – was taken on 28 August 2015 at night with a Canon EOS 5D Mark II and shows a man and child seeking to cross into Hungary before a secure fence on the border was completed.
Canon press release:
Canon congratulates winner of World Press Photo of the Year
LONDON, 18 February 2016 – Canon Europe, leader in imaging solutions, today sends its congratulations to Warren Richardson winner of the World Press Photo of the Year 2015. The winning photograph depicts a man and child attempting to cross the border from Serbia to Hungary at night. The pair were part of a group of people seeking to enter the country before a secure border fence was constructed. Due to the circumstance, Richardson was not able to use flash to capture the image, so the photograph is lit by moonlight alone.
The World Press Photo Contest, now in its 59th year, is internationally seen as the world's most prestigious competition for photojournalists. The judges of the contest, which has been sponsored by Canon since 1992, selected one image of 82,951 photos submitted by 5,775 professional photographers from 128 countries as the winning Press Photo of the Year 2015. There were seven themed categories, and two long-term project categories, open for contestants to enter this year.
"We are proud to support the world's best photojournalists in their quest to tell the stories that need to be told through this prestigious and highly anticipated event," comments Kieran Magee, Director, Professional Imaging, Canon Europe. "Images such as Warren's play a hugely powerful role in capturing the real impact and human side of a story and importantly, making sure they reach a broader audience. It is for this reason we're honoured to have been supporting these awards for the past 24 years."
Warren Richardson captured his winning image on the Canon EOS 5D Mark II with a EF 24mm f/1.4L USM lens. The winning photograph also won first place in the Spot News category. Other category winning entries taken on Canon cameras include:
Aftermath of Airstrikes on Syria, taken by Sameer Al-Doumy on a Canon EOS 5D Mark III for the Spot News stories category
FIS World Championship, taken by Christian Walgram on a Canon EOS-1D Mark II for the Sports singles category
China's Coal Addiction, taken by Kevin Frayer on a Canon EOS 5D Mark III for the Daily Life singles category
Storm Front on Bondi Beach, taken by Rohan Kelly on a Canon EOS-1D Mark II for the Nature singles category
Tough Times for Oragutans, taken by Tim Laman on a Canon EOS-1D C for the Nature stories category
As winner of the World Press Photo of the Year 2015, Warren Richardson will receive a cash prize of €10,000 from World Press Photo at an awards ceremony in Amsterdam on 25 April. In addition, Canon Europe will award him with the EOS-1D X Mark II, its recently announced flagship camera.
The prize-winning pictures are presented in an exhibition visiting more than 100 cities in over 45 countries over the course of the year and seen by more than 3.5 million people worldwide. This year's first 2016 World Press Photo exhibition opens in Amsterdam on 16 April. This year's exhibition displays will be printed on Canon large-format and Arizona flatbed printers.
In addition, in partnership with WPP a series of 80 lectures entitled "Reflections will run in cooperation with universities across Europe telling the story of professional photo journalism and the power of photography".
Further information about World Press Photo is available at www.worldpressphoto.org.
Editors please note:
World Press Photo – Press Kit
A selection of awarded images for publication can be downloaded from the World Press Photo press download area here
Link to the list of winners: http://www.worldpressphoto.org/collection/photo/2016