Canon Files Patent For Two 4/3 Lenses (14-28mm f/1.4-2.4 and 12-28mm f/2-3.2)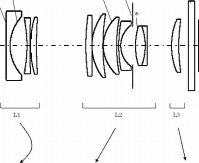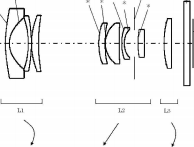 This came as a surprise. Could this mean Canon is working on a new version of the Powershot G1X? looks like.
Japanese blog Egami (translated) spotted a patent for two lenses with a 4/3 ratio. A 14-28mm f/1.4-2.4 and a 12-28mm f/2-3.2. I don't know what to think about that. The machine translated text is difficult to understand. If someone here can help with the interpretation, he or she is welcome. Any Japanese reader willing to help? :-) Quoting Egami:
Canon 28mm F1.8-2.8 is fourteen-28mm, 12- F2-3.2 ,14-28mm F1.4-2.4 of the patent is pending. 4/3 " imaging element of becoming a zoom lens equivalent to 24-56mm. 4/3 corresponds to, or the 28-56mm, equivalent size 35mm " imaging element while using, Myu4 / 3 lens without correspond to and if integrated, can realize the camera is so superior balance of performance, size.
Patent Publication No. 2012-226042

Release Date 2012.11.15
Filing date 2011.4.18

Example 1

Zoom ratio 2.37
33.60 – – 28.74mm f = 14.20 focal length
Fno = 1.80 -. 3.30 – 2.93
Half angle of view ω = 37.13 – 17.74 – 20.51deg.
Image height 10.75mm
77.74 – – 75.24mm 77.26 overall length of the lens
BF 1.46mm
11 sheets in 10 groups lens configuration
Three four-sided aspherical

Example 3

Zoom ratio 2.72
33.60 – – 28.53mm f = 12.36 focal length
Fno = 2.06 -. 3.60 – 3.26
Half angle of view ω = 41.01 – 17.74 – 20.65deg.
Image height 10.75mm
82.29 – – 79.22mm 82.03 overall length of the lens
BF 1.21mm
Eight 8 groups lens configuration
Four aspherical surface 7

Example 4

Zoom ratio 2.37
33.60 – – 28.74mm f = 14.20 focal length
Fno = 1.40 -. 2.71 – 2.39
Half angle of view ω = 37.13 – 17.74 – 20.51deg.
Image height 10.75mm
80.53 – – 77.94mm 79.63 overall length of the lens
BF 1.51mm
10 sheets of 9 groups lens configuration
Three four-sided aspherical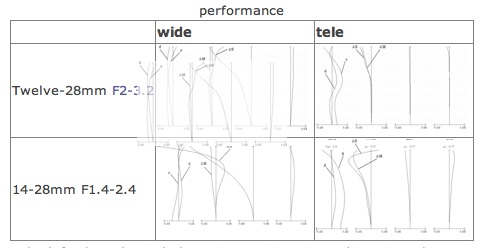 [via
Egami
]